Hiking in Denver can fill every day of the year due to the hundreds of miles of trails, more than 300 parks, and 78 neighborhoods that call Denver home. Depending on the month, one hike is better than the next. For 2021, as COVID and vaccinations continue to inject their uncertainty into our ability to move about, we offer up the best Denver hike to do in each month of 2021.
Need a good pair of hiking boots? Get them from REI where you can return them for up to a year.

January Hike in Denver
The weather can flux from -15 to 50 degrees in January, with icy, snowy, and dry trials appearing throughout the month. January is Denver's coldest month. You're also likely to find mud, often, on trails. So for the month of January, if you have to pick one hike, pick one on a paved route. Your best and most interesting option is to do the Confluence Loop which incorporates the Platte and Cherry Creek Trails. The City of Denver does a great job keeping the paved routes clear, so enjoy this loop.
The Confluence Loop starts at REI's Flagship store, goes south on the Platte River to the Million Dollar Bridge, turns north to the Cherry Creek, where it goes east along the Cherry Creek to the Convention Center. There, you'll loop back towards the Platte River and then continue north on the Platte River Trail to the Denver Skate Park. You'll once again turn back south on the Platte River to return to REI.
Distance: 3-5 miles depending on how far you want to go.
To be sure you can always hike in Denver, get a pair of ice cleats. I like Korkers and not Trex; here's my review.
February Hike in Denver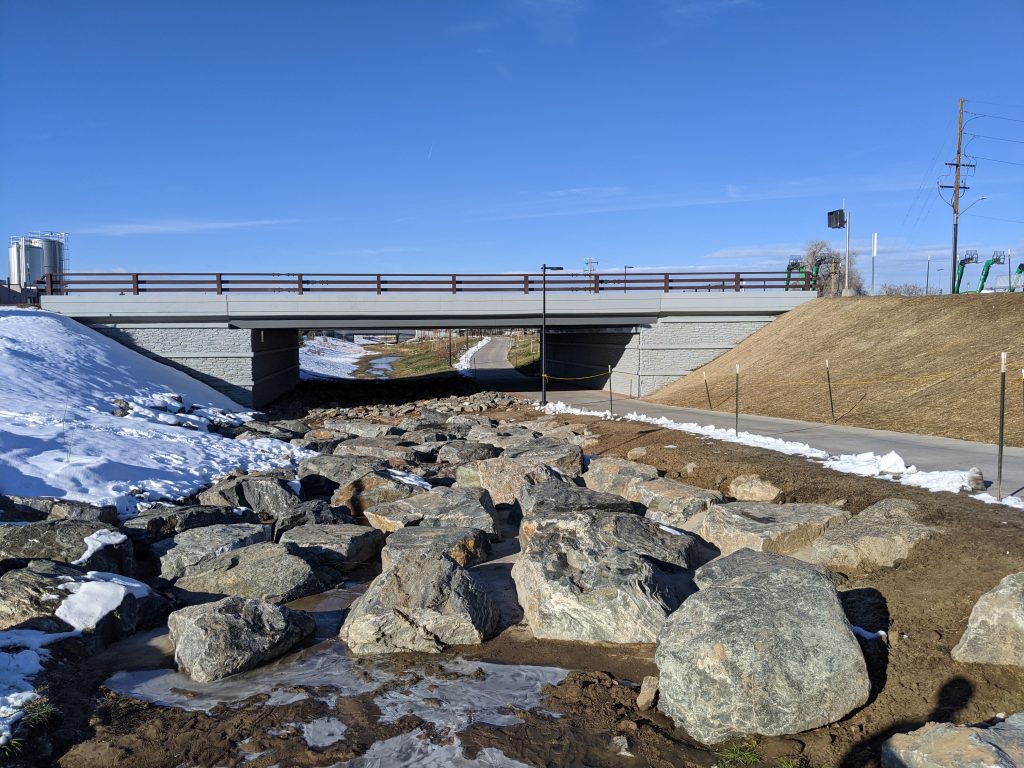 Conditions in February are similar to January, except it generally is a few degrees warmer. None the less, you'll still find trail conditions similar to those in January. In addition, road conditions, like those in January, up into the mountains can also be treacherous. Therefore, stay close.
For the month of February, check out the new 38th Avenue Greenway. This super fun urban trail is chocked full of interesting tidbits about Denver's history, archeology, architecture, and industry. We've got at least ten fun things to do there, including just taking a nice urban hike.
Distance: 3-5 miles. You ca make this urban hike as long or as short as you'd like.
March Hike in Denver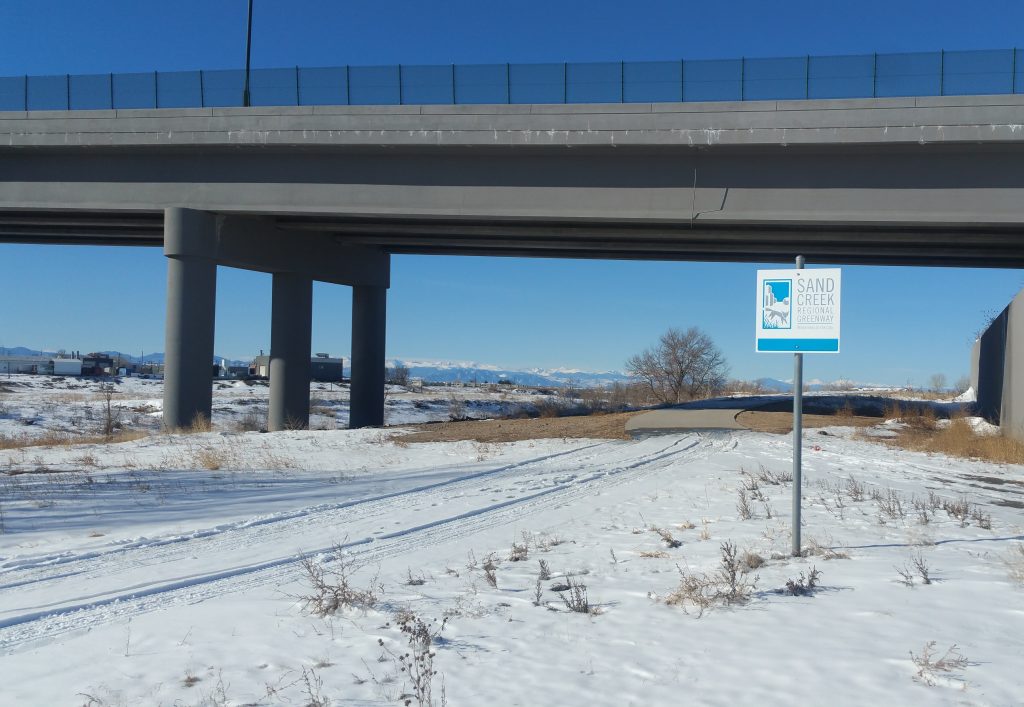 March is the snowiest month in Denver. A perfect challenge for the month of March is to hike the entire Sand Creek Greenway. It's 14.1 miles, starts in Aurora at the soccer fields and moves northeasterly to the confluence of the Sand Creek and the Platte River in Commerce City. This trail, which is both paved and soft surface, passes through wonderful natural areas, past a 100 foot long mural, and through beautiful cottonwood stands. You can hike it in one good day, or do it in several segments. If you do the entire 14.1 miles, you can get a cool patch from the Sand Creek Greenway Partnership.
Distance: up to 14.1 miles
Read about it and get the map.
April Hike in Denver
With spring right around the corner, the bison are getting frisky. What better way to see spring approach then to enjoy it at the Rocky Mountain Arsenal. A great trail that no one knows about is the First Creek at DEN Open Space Trail. You'll park at the corner of 56th and Pena, walk north on the Old Buckley Road for about 1/3 mile, then take a left on to dirt trail. You'll meander in prairie along First Creek, making your way to the Bison Overlook. Hopefully, the bison will be posed and waiting for your picture. You'll at the very least see prairie dogs, bald eagles, and most likely see deer, maybe a ferret, and hopefully the bison herd.
Distance: 4 miles
Read about it and get the map.
May Hike in Denver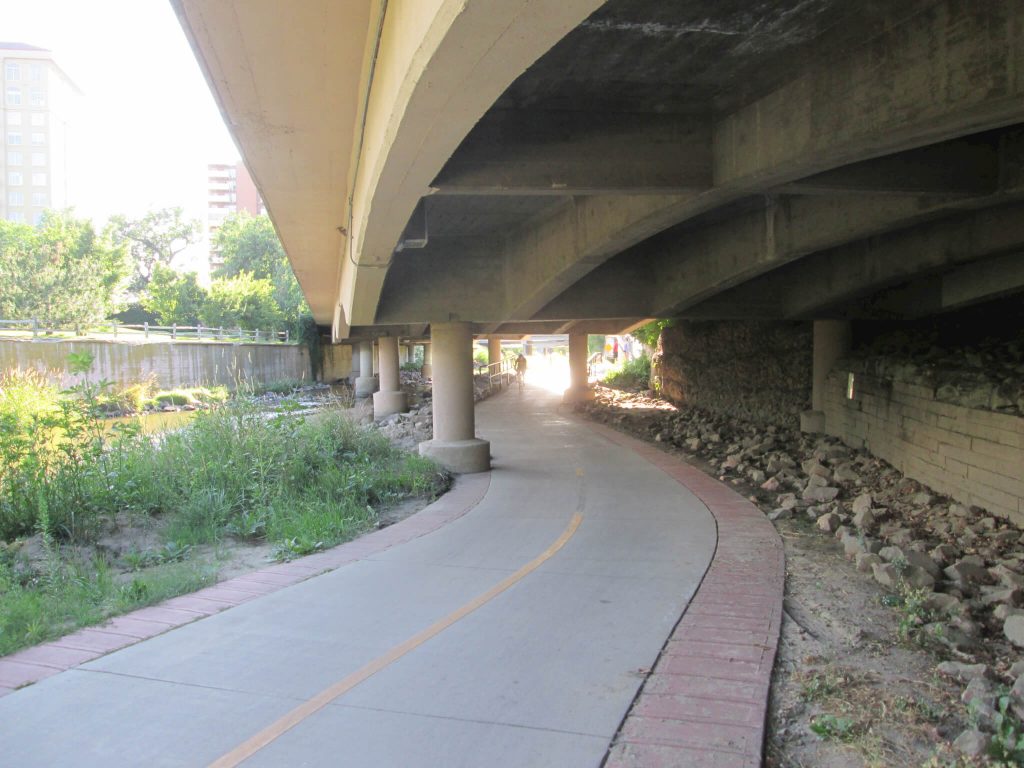 The season of hail is upon us. It's best to hike earlier in the day. The 9 Creeks Loop is a 42-mile urban hike that loops the perimeter of Denver. You'll do a 360 degree tour of the city by foot. Pick one of the 8 segments to hike, where each segment is about 5 miles one-way. For this time of year, segment 7 or 8 is perfect, cruising along the Cherry Creek and the Platte River, catching glimpses of the public art and murals along the way.
Distance: 5 miles
Read about the 9 Creeks loop and get the map.

June Hike in Denver
Before it gets too hot and smoky, June might be the perfect month of good temperatures to enjoy our beautiful Denver by foot. It's a fine time to pick a neighborhood you've never walked in and get out and explore. We have 78 neighborhoods in this amazing city. Some of the most interesting neighborhoods to walk are Central Park (formerly Stapleton), Five Points, Lowry, Chaffee, Berkeley or Barnum.
Distance: 3-5 miles
Read about the neighborhoods here and get your maps.

July Hike in Denver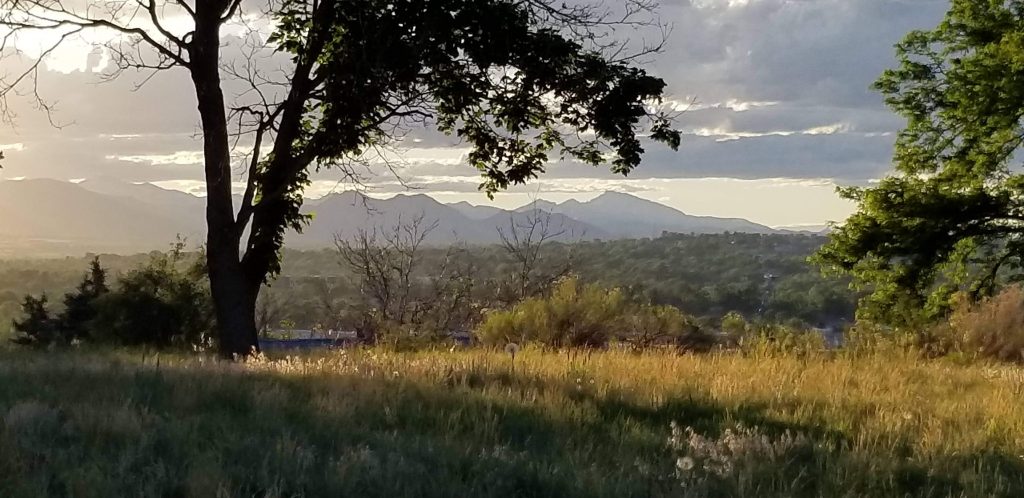 The heat sets in, and Denver becomes hot. One of the most fun hikes to do in July is an evening hike along lakes and then ending at a sunset over the Rockies. You can start at Rocky Mountain Lake, walk west to Sheridan and then north on Sheridan until you find Inspiration Park on the west side of the street just north of I70. Walk west into the park and catch the sunset over the Clear Creek Valley while viewing the Front Range.
Distance: 3-4 miles
August Hike in Denver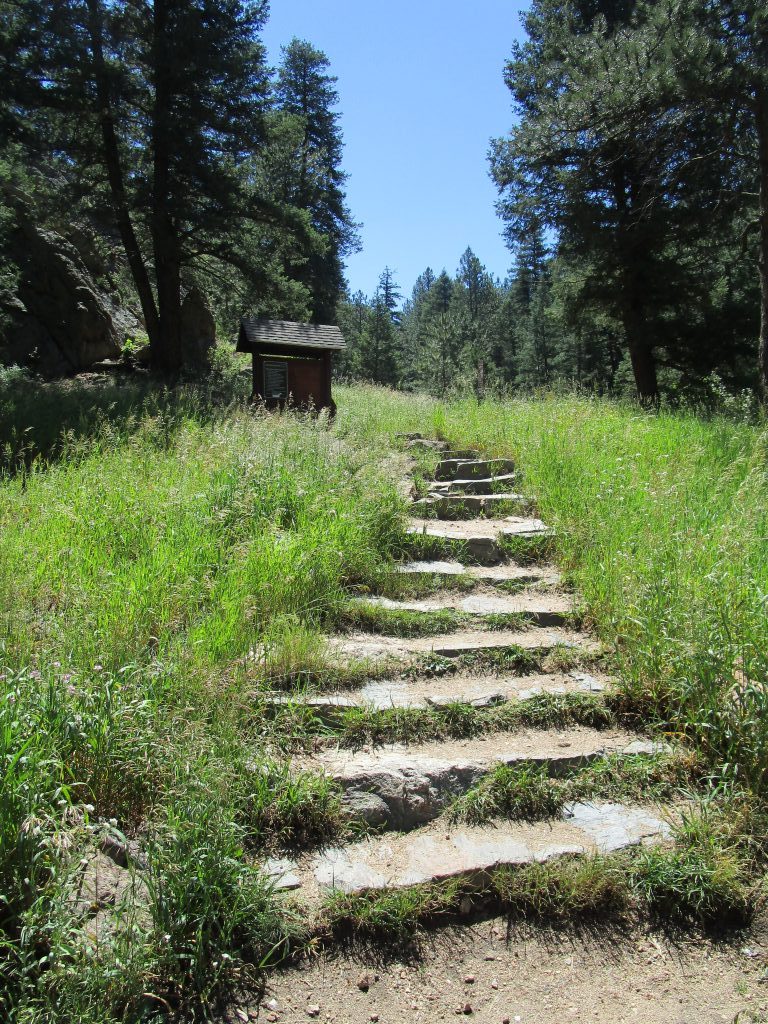 It's hot. And probably smoky. You'll want to be really careful of where any fires might be, paying attention to smoke blows and areas that are closed. We are often lucky in that the Denver Mountain Parks tend to miss the big fire action. One of the best mountain parks to enjoy for sunrise or sunset is Corwina Park. A short hike, although it's basically straight up for a mile, you can reach Panorama Point. There, view the Continental Divide and escape the heat of the city. If you want more distance, enjoy the Bear Creek Trail that crosses Panorama Point Trail for 6 miles one way to Pence Park, another Denver Mountain Park
Distance: 2-3 miles
September Hike in Denver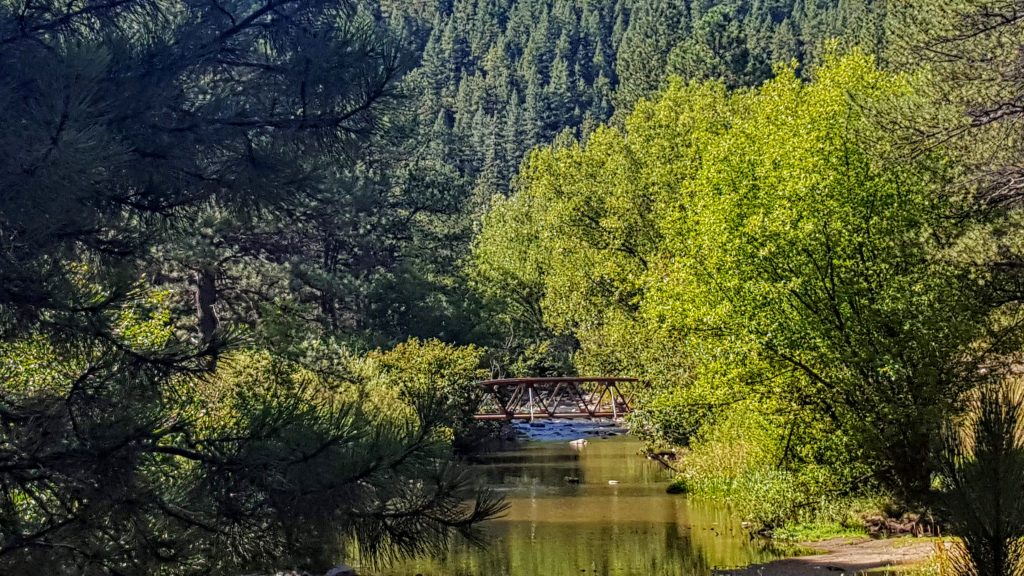 Fall color starts to set in up in the high country, and it begins to creep into Denver. Again, your Denver Mountain Parks provide your best local option in September to see fall color. The best high country hike for color is Hell's Hole in Idaho Springs. But if you don't want to start at 9000 feet and go to 10,500, try the easier Denver Mountain Park hike in O'Fallon  Park. Take the Bear Creek to Meadow View to West Ridge Loop. You'll see great fall color, avoid the crowds, see the 4-sided chimney, and not have to travel too far.
Distance: 3-4 miles
Get your map here.

October Hike in Denver

There's no better place to hike in Denver in October than on the High Line Canal Trail. It runs 71 miles from Waterton Canyon to Green Valley ranch through rural, urban, suburban areas across 11 jurisdictions. No matter what section you pick, you cant go wrong. For the best fall color, pick a section in Cherry Hills or Highlands Ranch. For the best view, do the Green Valley end. For the best shade, walk behind Fairmount Cemetery in Denver. For the coolest history, walk the DeLaney Ranch section in Aurora. For fresh apples off the tree, walk behind Fly n B Ranch. You'll want to buy the High Line Canal Trail Guide and get the map.
Distance: you pick.
Get the map, how to instructions, and everything you need to know to hike the High Line Canal Trail.
November Hike in Denver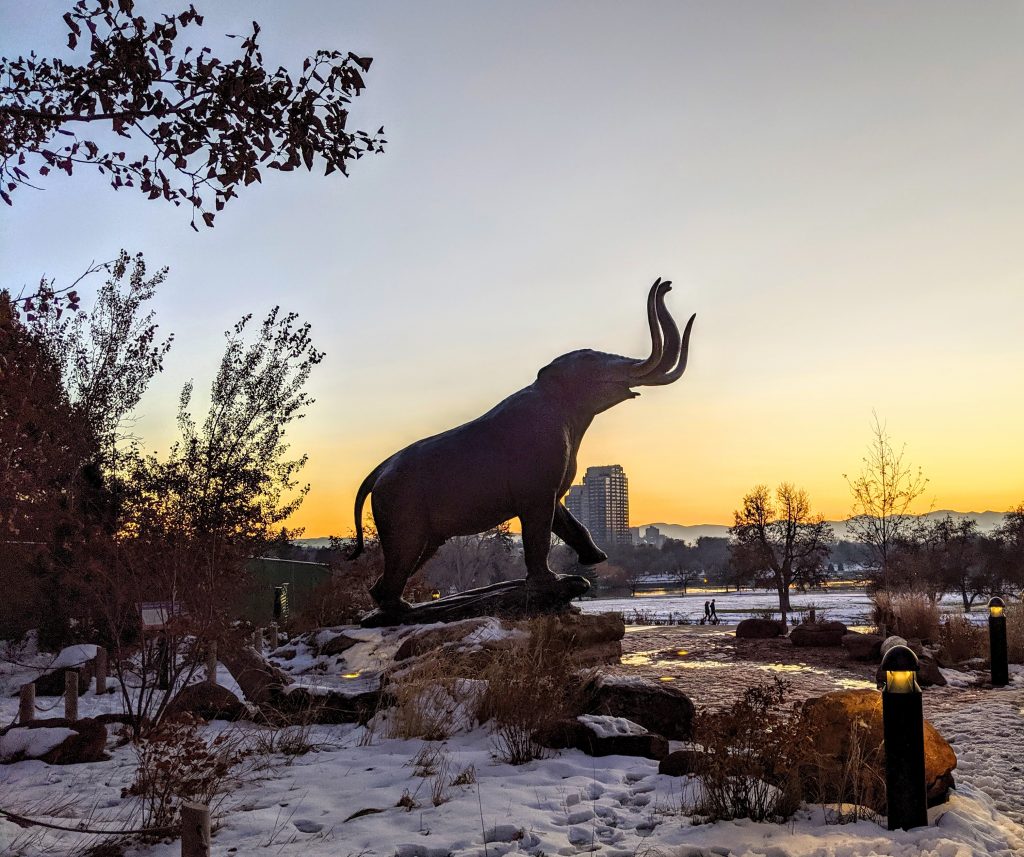 Sometimes we miss the most wonderful things that are right under our noses. If you have visitors and family coming in town for the holidays, be nice, and let them acclimate to the Denver altitude. One of the best places to show wonderful views of our lovely downtown with the front range in the background is to take your visitors to City Park. Start your walk at the snowy mastodon at the Denver Nature and Science Museum and then walk around the lake or do the Mile High Loop within the park. Simply meander through the city's largest park, seeing the statues, gardens, and bird islands. You might even glimpse the elephants at the zoo.
Distance: 3-5 miles
December Hike in Denver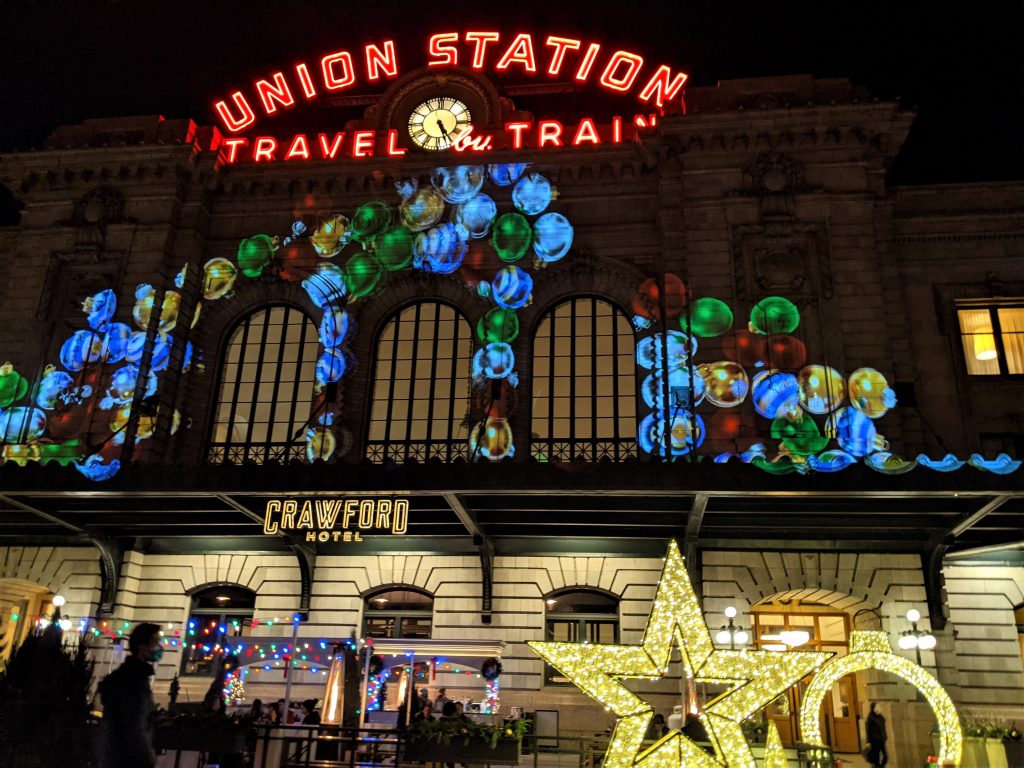 Many people credit Denver with starting the tradition of Christmas lights. Legend has it that a doctor sent a small boy home to recuperate. The boy lived across the street from the doctor. In order brighten the boy's recovery, the doctor painted two white lights, one green and one red, to entertain the boy. The Denver news media picked up the story, it hit the AP, and soon, everyone was painting their lights to spread the joy. Shortly after, Denver was the first municipality to light up its buildings.
So, go enjoy a walk downtown. Whether we have the Parade of Lights or not, be sure to walk downtown between Union Station and the City/County Building along 16th Street Mall. You'll catch amazing light shows, including the Mile High Tree, the Capitol, and all facades in between.
Distance: 2-6 miles
Hike in Denver Any Month
Denver's 200 miles of trails, 78 neighborhoods and 300+ parks always provide a great way to get out and explore your city. There's never not a reason to enjoy Denver by foot. Where will you go next?
Get 52 Hikes in 52 Weeks Calendar
Want more? How about one hike every week in Denver? Click here to get your list of 52 Hikes 52 Weeks in Denver.