A Palette of Opportunity in Chaffee Park
Denver's military payroll grew from $3 million in 1939 to $152 million at the World War II's end. No place is more evident of the impact of returning soldiers on Denver's mid-century growth explosion than here in Chaffee Park.
At a time when veterans urgently wanted housing, Garret Bromfield, on of the subdivision builders of the time, complied. The entire Chaffee Park neighborhood is nothing but late 1940's homes built to accommodate post-war, Denver growth. Small homes on neat lots make a community that's fun to explore.
You can enjoy a great walk through Chaffee Park on this urban hiking adventure.
Gentrification Is Coming
Bounded by I70 to the south, Denver county's line to the north at 52nd, Federal to the west and the rail yard to the east, this original suburb has yet to escape the flipping and scrapping boom of its neighbors to the south. But the gentrification is definitely coming–I saw one rebuild in the neighborhood, and many homes for sale. With quick access to I70 and downtown, Chaffee Park is about to be known.
At the corner of 48th and Pecos was Denver's first shopping center. It now houses a Save A Lot, Chaffee Drugs, Honey Bun Bakery, Horn Cleaners, a barber shop, shoe repair shop, and a Blue Ribbon Market delicatessen.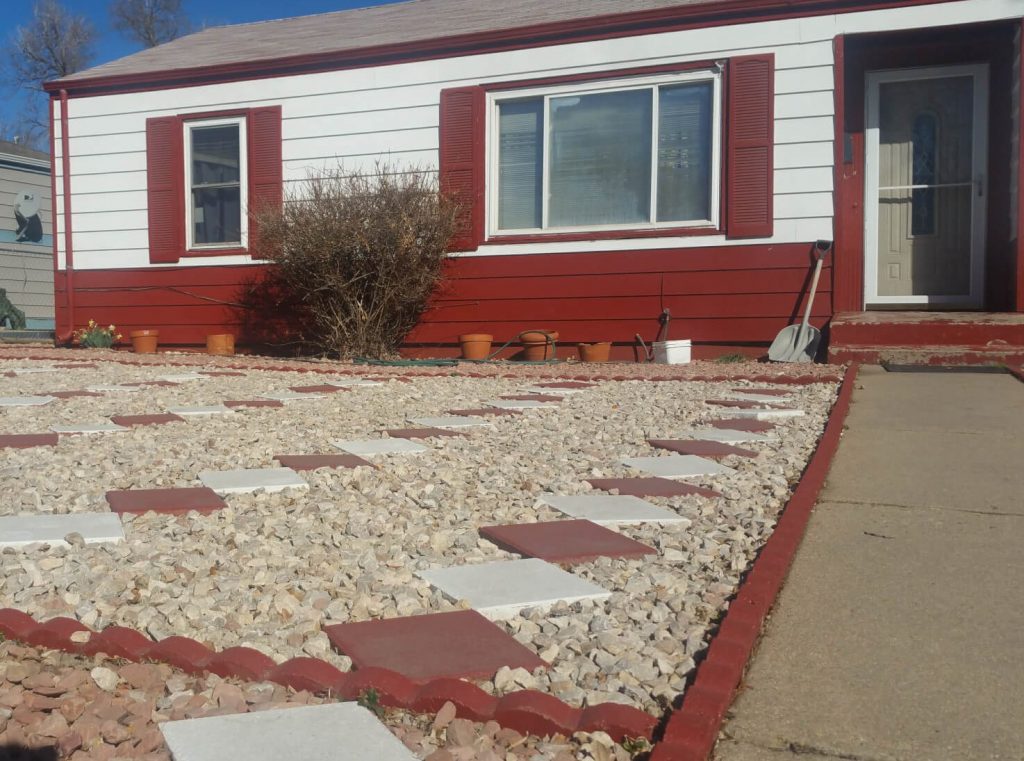 Don't confuse the neighborhood of Chaffee Park from the park named Chaffee Park, after the same Chaffee of this neighborhood. Chaffee Park park is south of I70 in Sunnyside. Both were named after an original city founder and future Colorado Senator whose daughter married Ulysses S Grant's son,yet the neighborhood doesn't seem to reflect the political clout that Jerome Chaffee surely had.
To learn about the history of Denver parks, buildings and artwork, buy my book Discovering Denver Parks.
Wellness Trail of Fun
One of Chaffee Park's best feature is the unnamed park at the corner of Zuni and 51st. With great views of downtown, this large park, commonly known as Zuni Park, has room for Frisbee playing and kite flying. Circling the park is a well marked 3.5-mile Wellness Trail looping through the neighborhood on the way to nearby Regis.
Since 2017, the Skyline Festival occurs here in the park. It's a community event featuring: exercise, games, food trucks, pot luck food share, children's activities, booths from local community organizations and vendors, and live music.
Shop Exclusive Patagonia Gear today + Free Shipping on orders of $75 or more!
Just to the west of here between Federal and Zuni and from 44th to 48th used to be Lewis Perrin's sugar beet farm. At one time there was a large Italianate home at 4375 Clay Street, but it was razed in 1958 for a gas station. Also on this old area called Perrin's Addition along 44th Avenue, Perrin planted a stand of cottonwoods. Although many of these were cut down to make for a widened avenue, several of the cottonwoods in the area possibly sprang up from the original Perrin grove.
Flying Monkeys
When most of the homes look the same, it's fun to see how the blank palette inspires homeowners' pride to stand out. From cows in yards to flying monkeys, each block has something unique to keep you interested. Even the brand new home, with its new urban spin, has a sculpture made out of bike parts in its yard.
As a long, narrow rectangle shape, you can manage to squeeze in a 3-mile walk. Be sure to glimpse into the rail yard on the east side. You won't miss the looming AT&T tower, which is in Adams county, just north of Chaffee Park.
Start at Zuni Park, 5100 Zuni Street. Head south to W 50 Street, turn left (east) to Tejon. Go north (left) to W 51st Ave. Turn right.
Cross Osage and walk to the rear of one of the parking lots to get a glimpse of the rail yard just to the east. Go south on Osage and turn right (west) on W Stoll Place. Continue southwesterly, merging onto W 49th Ave.
Continue to Elm Court. Take a right (north) to W 50th St. Take a left on Clay St. Take a right on 52nd Ave. You'll be walking the county line between Denver and Adams county. Notice the difference in zoning and development.
At Bryant St, take a right. At 51st St, take a left. At Zuni, take a right, returning back to your starting point.
Changing Chaffee Park and Supporting Denver By Foot
If you've enjoyed this walk, maybe you'll enjoy some other walks curated by Denver By Foot. Get the 52 Hikes 52 Weeks Denver Calendar, which recommends a hike a week, subscribe to the YouTube Channel to hear about weekly hiking suggestions in Denver, and buy access to the Denver By Foot Challenge. The Challenge is 30 activities in Denver to do by foot where you'll uncover treasures throughout Denver. It's a great thing to do with friends and family.
Finally, please support Denver By Foot by purchasing Chris Englert's books, The Best Urban Hikes: Denver and Discovering Denver Parks. Thank you so much!
Wasn't this a fun walk?
See you on the trail
~Chris