High Line Canal Trail Overview
The High Line Canal and its Trail, at 71 miles long, run from Waterton Canyon to Green Valley Ranch, just south of Denver International Airport. Zigging, curving, and zagging, the Trail of asphalt, concrete and soft surface, meanders through urban, rural, and suburban metro Denver. Only falling 200 feet over its entire length, the Trail is relatively flat and easily traversed by walkers, hikers, rollers, and bikers.
Everything you need to know for how to hike the High Line Canal Trail is on this website.
The trail's map shows its overall path. The numbers show how you can hike it in 14 segments. (Read this post for more info.)
Trailhead and Segment Information
For specifics about each trail segment and the trailheads and trailends, see the Trailhead Info here.
How to Hike the High Line Canal Trail Your Way
You can hike the entire trail by breaking it up. There's the Short and Sweet option in 27 segments, the Medium and Enjoyable option in 14 segments (the recommended way) and the Long and Thorough option in 8 segments. Read about recommended ways on how to break the trail.
Specific Trail Information
The southern half of the High Line Canal Trail features the foothills and vast front range views.
The northern half features the prairies and vast grassy views.
Both halves combine for the whole story of what Denver has to offer, with a fabulous tromp through water history and land rights.
Perfect for Visitors and New Hikers
The High Line Canal Trail is the perfect hike for locals and visitors alike who are acclimating to Denver's high altitude or who want to train locally for more difficult hikes in the mountains at higher elevations.
Want to know more about hiking the High Line Canal Trail in 14 segments? Browse the posts below and see what it's like to hike with Chris on this fabulous Denver treasure.
Or read
How to Hike the High Line Canal Trail
High Line Canal Trailheads and Segments
Want to read stories about hiking the High Line Canal Trail?
Check out the posts below, focusing on hiking the High Line Canal Trail in 14 segments.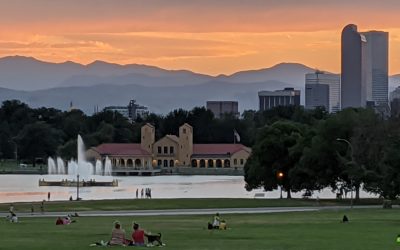 Hiking in Denver can fill every day of the year due to the hundreds of miles of trails, more than 300 parks, and 78 neighborhoods that call Denver home. Depending on the month, one hike is better than the next. We offer the best Denver hike to do each month of the...