Family Coming to Denver? 7 Free Things to Do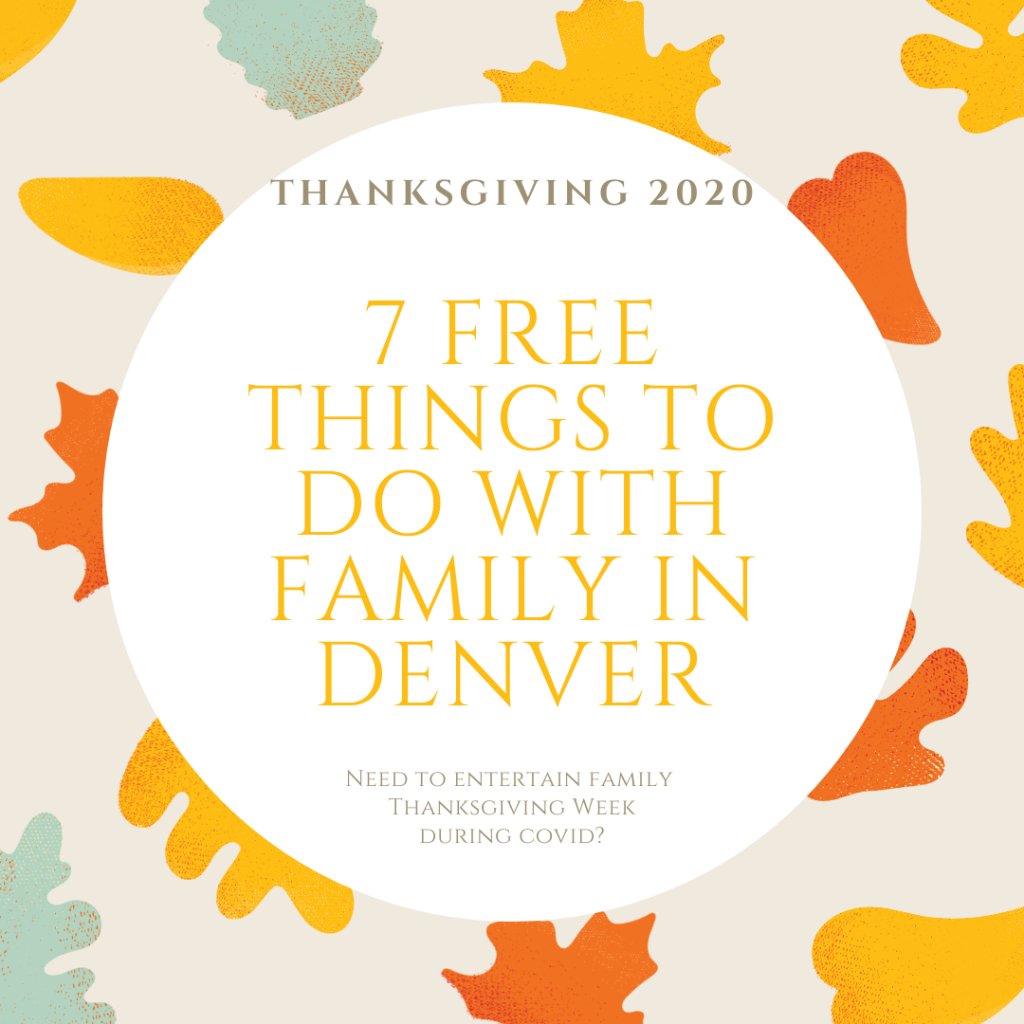 Do you have family coming for Thanksgiving, and you're a little concerned about what to do with them in this time of COVID? We've got 7 free things to do with them. In addition, since many people who come to Denver are coming from sea level or altitudes lower than Denver at 5280′, this list is sea-level friendly as well. Don your masks, be safe, and go enjoy yourself in Denver.
You Don't Have to Spend to Have Holiday Fun

1. Get a sneak peek at the holiday lights in downtown Denver. Locals tip: Although they officially turn the lights on the Friday after Thanksgiving, sneak down there on Wednesday when they test the lights. Grab a table at Hopdoddy, which conveniently is next to Union Station, or sit outdoors at Next Door and watch them practice the lights. You won't have to brave the crowds on Friday, and you can get great Instagram shots before anyone else without the crowds!  By the way, Hopdoddy has a killer vegetarian burger, and you can't beat Next Door's Beet Burger.
See the Bison!

2. Hike and drive with bison. If the weather is above 40 and not windy, head to the Visitors Center at the Rocky Mountain Arsenal Wildlife Refuge and see the bison and ferrets. (Even if the Visitors Center is closed, you can still hike.) Hike from the Visitors Center out to the lakes. It's about 3 miles round trip. You can wear sneakers. On this flat hike through the prairie, you'll certainly see prairie dogs, ferrets, white tail or mule deer, hawks, bald eagles, and you may see the bison. After you've down the walk, drive the 17 mile wildlife loop. If you didn't see the bison on your hike, you'll certainly see them on the drive. When you're finished, stop at Kabod Coffee for an excellent Ethiopian coffee and a sweet treat.

See the Mansions in Capitol Hill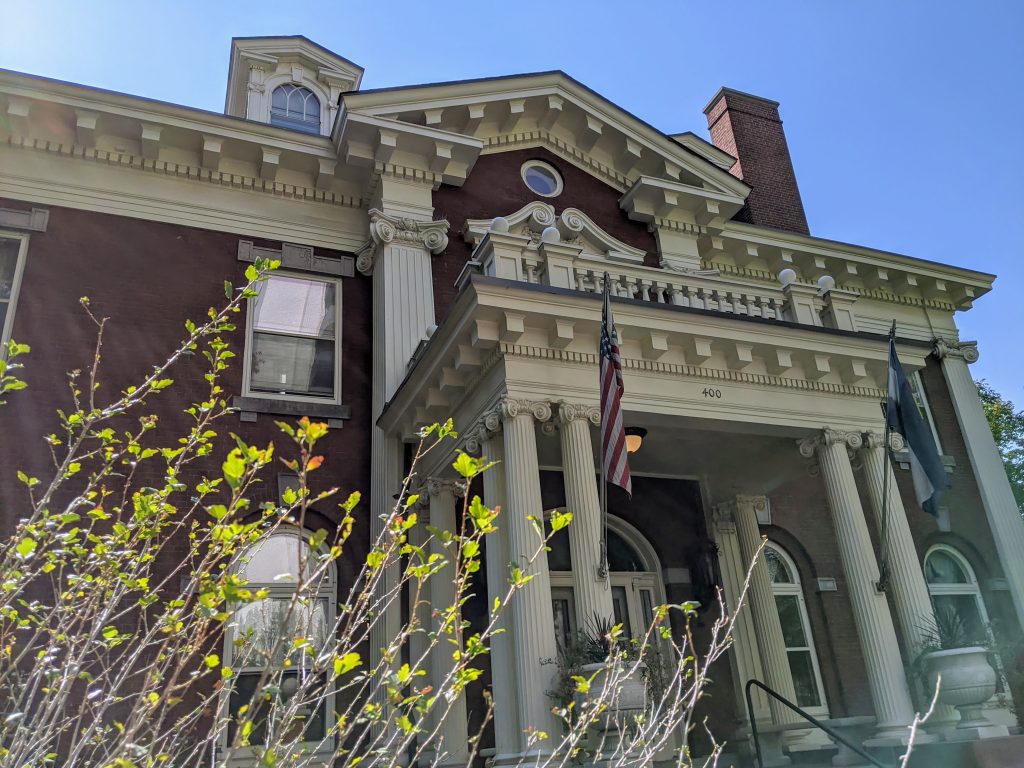 3. Walk with giants. The Quality Hill Historic District in Capitol Hill provides a nice way to gawk at opulence without walking too far. This 1.5-mile loop takes you past the best of the mansions, gives insight into how these barons made their money, and drops you at City O City for lunch. Don't want lunch? Grab an amazing treat from the vegan bakery next door.
RiNo Street Art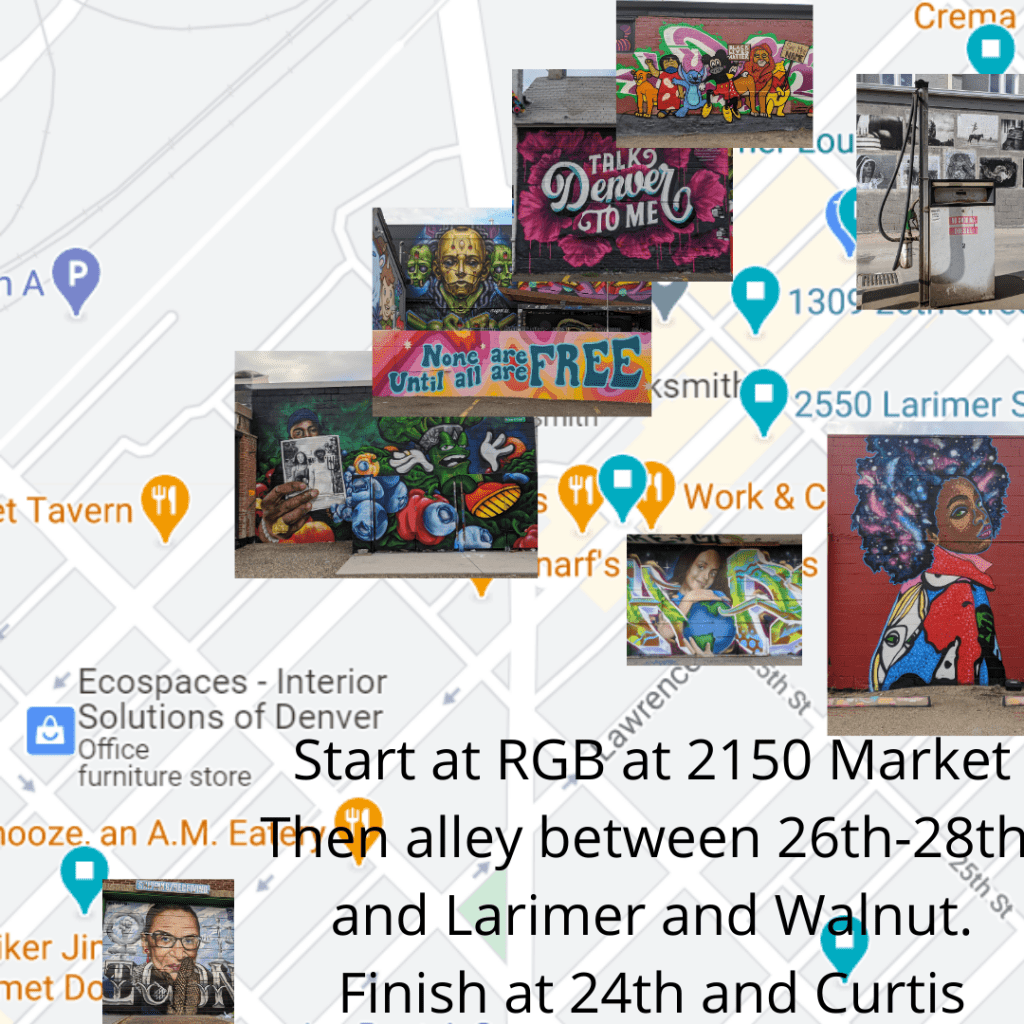 4. See international and local juried street art. The street art scene in RiNo constantly changes. This year brought in a host of excellent BLM-focused art followed by RiNo's Crush Walls, artwork about Ruth Bader Ginsberg, and then it has continued with messages for front line workers. It's constantly changing. No matter when you go, you'll see something different. Here's a map for a suggested route; roughly follow it, veering off for when you see something fabulous. Make sure you visit the CRUSH alleys between 26th and 28th, Walnut and Larimer. Grab a Barney L Ford Sandwich at Coffee at the Point (and asked them why it's named that.)
Turkey Trot
5. Walk off your turkey. Inspired by REI's OptOutside movement, take a good walk from Cheesman Park to Wash Park for a 3-mile amble. Or just enjoy a jaunt around Cheesman Park, a park with great trees, eerie ghosts, and super history. Grab a copy of my book, Discovering Denver Parks, for the full story, plus 161 others.
A Little Retailing and a Great Sunset
6. Support small businesses on Saturday. Being Small Business Saturday gives you a great excuse to meander the cute shops of downtown Arvada. There's no money spent when you're "just looking." Arvada dresses up its downtown and makes it very welcoming. And the gob-stopping delicious Hibachi Steak Rice at Urban Beets is worth the drive. After a little shopping and a late lunch, time your departure to arrive at Inspiration Point Park for the best sunset in Denver.
Looping the Lariat
7. Catch Buffalo Bill and some dinosaurs. If you're more inclined to just go for a good drive, do the Lariat Loop. For dino tracks to Buffalo Bill extravangzas, this drive can incorporate as much walking as you want or none at all. Everyone in the family will find something they enjoy on this adventure. When you've had enough driving or walking, go soak up some western culture in Golden, then grab the best Nepalese food in town, The Sherpa House, a locals' favorite.
During this COVID time, it can be a bit daunting to come up with things to do with your family that are safe, fun, and best of all, free. It's Thanksgiving. Let's be grateful for all that we have, hug our families if we're able, and enjoy our beautiful Denver.
Happy Thanksgiving everyone…
Tell me, what else should I add to this list?
~Chris