From Water Bottle to Water Bladder
Carrying water is the most important decision you'll make when walking and hiking. Whether you've got a short little 1-miler around the neighborhood or a 5-day trek into the woods, water is the critical element. For me, since I do all types of walking and many different lengths, I have a whole closet full of water carriers. Here's what I use and when:
Short Walks and Short Urban Hikes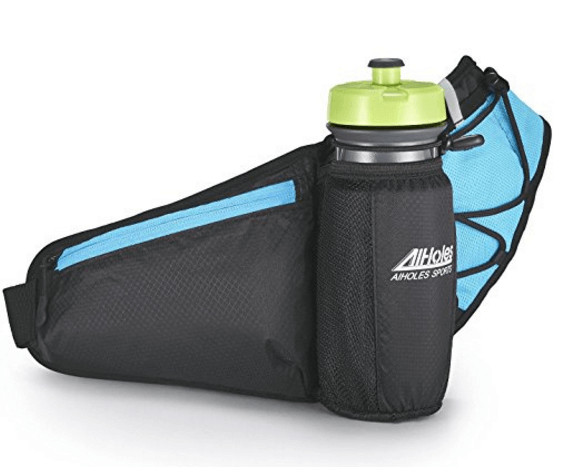 Walking in the city or around the neighborhood for 1-3 miles only requires one bottle of water for me. But since I always have my keys and my phone with me, I like for my water bottle holder to also carry these items as well. I prefer the AIHOLES single water bottle carrier. This one does not come with a water bottle, which is fine, because I prefer this Polar water bottle which comes in a gazillion colors.
Longer Urban Hikes and Walks
When I want more than one bottle of water, which is often here in dry Colorado, and I also need to carry a few snacks, my keys, and my phone, I prefer this bag (which my husband got me, and I love him for it!)
When a Bottle Turns into a Bladder
When my walks and urban hikes turn into longer jaunts, like over 5 miles, I prefer to use a bladder. Or, when I'm leading walks and I have to carry first aid kits, extra snacks, extra layers, etc, I use a backpack with a spot for a bladder. I like the fun Cotopaxi Luzon 18 L bag, especially since you can get it in unique colors, and the Deuter Compact bag for its perfect size and excellent support.
Planes, Trains, Automobiles and Day Hikes
When I'm doing planes, trains, automobiles or doing long day hikes, I prefer the REI Day Pack. This is my go-to for most of my backpack-oriented travel where I'll be in/out of museums, hostels, or when I'm day hiking and have portage for other gear.
Long Multi-Day Hikes
And finally, when I'm walking long hikes like on the Appalachian Trail or the Bruce Trail, I like my Osprey Kyte 46. It's a true gem for stuffing a tent, sleeping bag, water sterilizer, clothes, and food.
Bladders of All Sizes
All of the packs above can fit any size bladder, and a few of them come with a bladder. But if you need to buy a stand-alone bladder or another size of bladder (I have a 1-liter and a 2-liter), I prefer a clear bladder with a twist top rather than a slide top. In the dark, with low light, the twist top is easier to refill than trying to manage sliding a thin piece of plastic across an unruly edge. The clear color allows you to see any mold or debris.
Be sure to empty your bladder every time, and let it dry completely. I use bladder cleaners a couple of times a year, and they do a wonderful job.
Clean Water
Finally, if you need to sterilize your water, my best recommendation is the Steri-Pen, which I reviewed earlier. I used this along the Appalachian Trail with ease while my friends struggled with their filtration systems.
Happy watering! What do you use? What would you recommend?
See you on the trail~
Chris