Trail Crowded? Try these Denver Trails Instead
If you read lists of places to hike in Denver or near Denver, you'll find they tend to be all the same. No wonder the trail heads exceed capacity by 9 AM, and rangers attempt to turn away late-comers. The problem isn't parking, the problem is that well-known trails top people's minds, and trails that should be visited, aren't.
In an attempt to help alleviate the crowds at the popular trails, here's a list of Hike This Instead of That.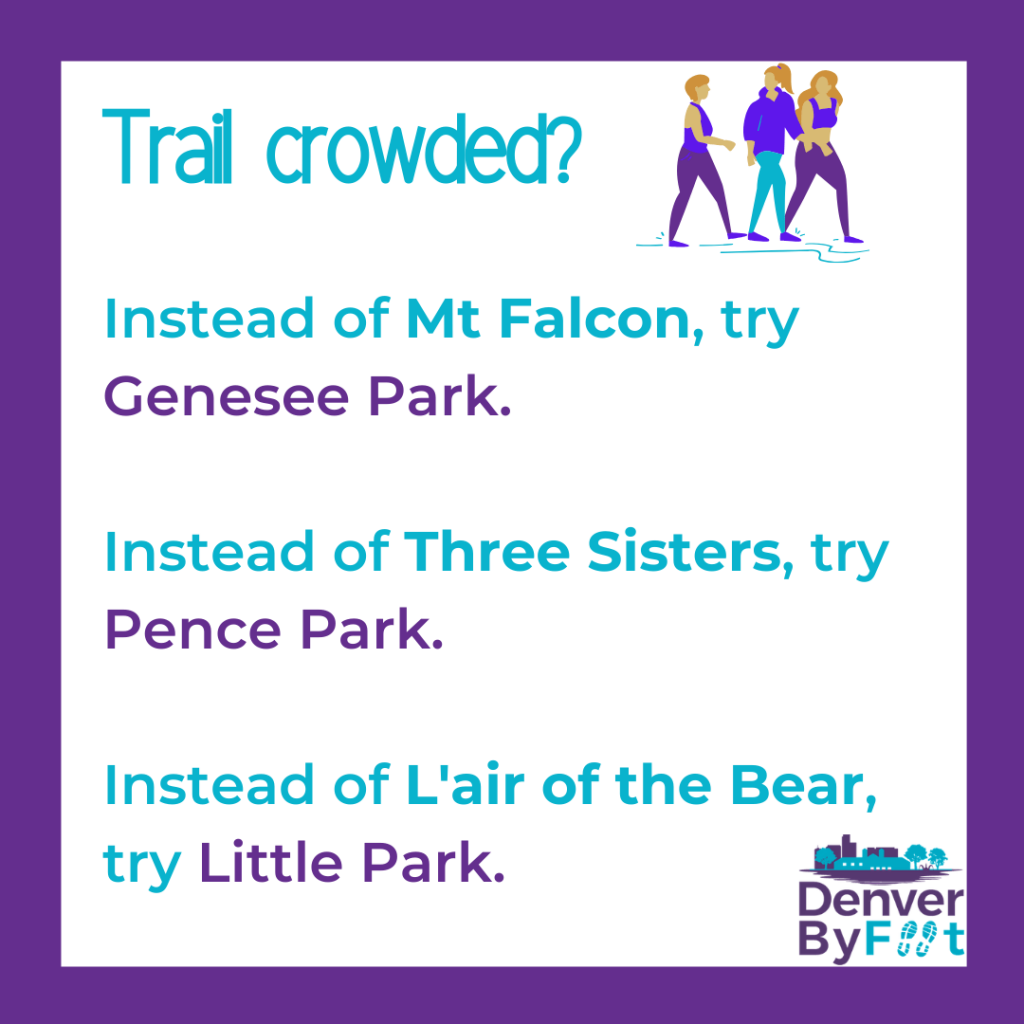 Here is a list of the most recommended hikes in Denver and near Denver. Instead of hiking the recommended trail, try the suggestion instead.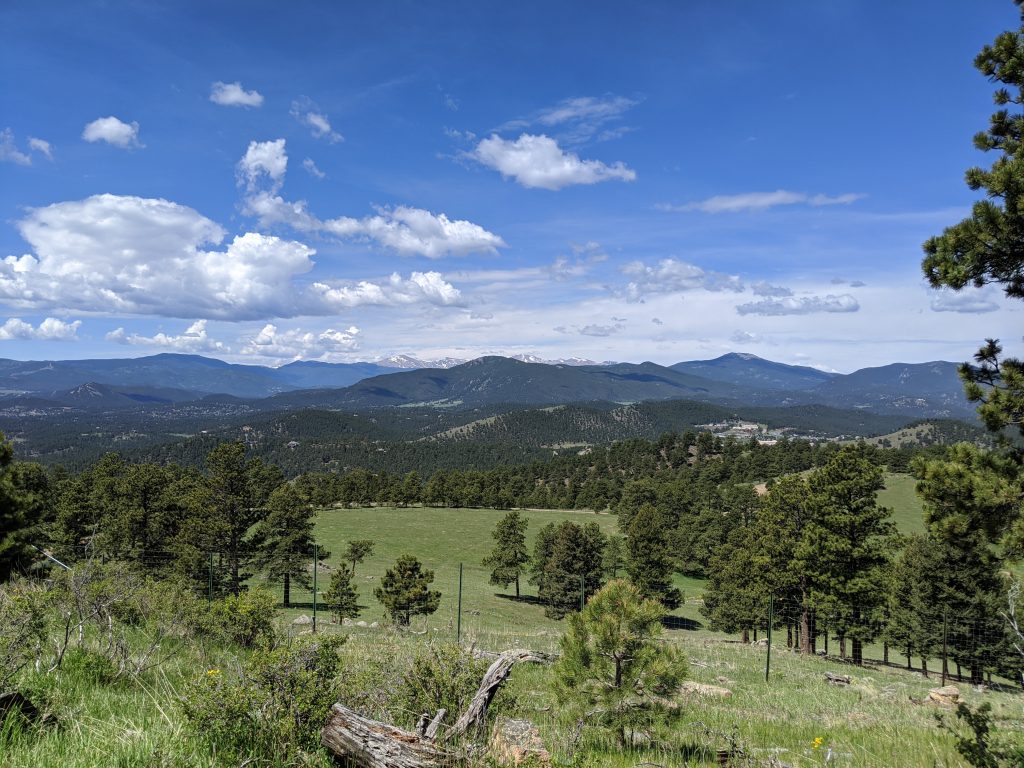 You'll find several trail choices within the Denver's Genessee Park including Chavez, Beaver Brook, the Braille Trail and Genesee Park Trail.
Thus, in comparison to Mt Falcon, instead of the Turkey Trot Trail, do the Braille Trail. The Braille Trail, designed for blind hikers, is a 1-mile loop with a rope guide for the unsighted. It's also an interesting trail for kids and adults to try blind folded. A gentle slope and set of steps guide hikers in a loop around the woods. With eyes closed, you'll hear the falcons and hawks easier!
Instead of Mt Falcon's Castle Trail, do the Chavez-Beaver Brook Loop. This 5-6 mile beast goes one big down to one big up with a creek in the middle to cool you off. It's a challenging trail. You'll want to bring poles or an extra set of knees.
The trail head for these trails is on the north side of i70.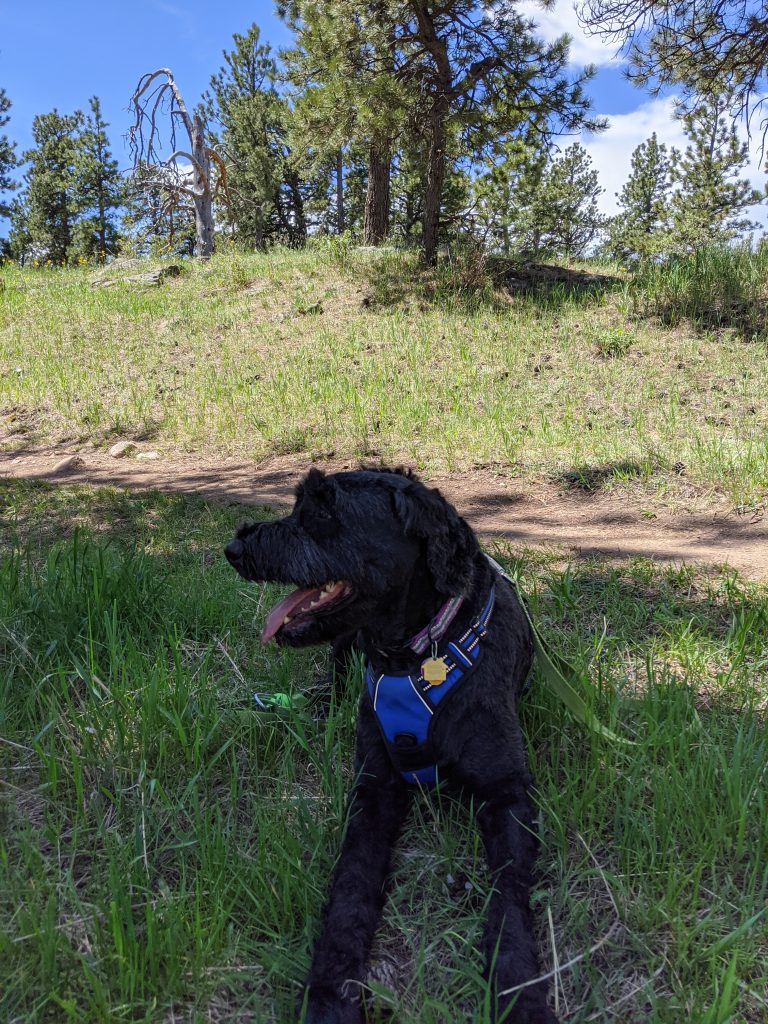 Finally, instead of the Parmalee Loop Trail, do the Genessee Mountain Trail for 3.7 miles and then jump up to the summit on the Genesee Summit Trail for an additional mile or so. The Genesee Mountain Trail is a good loop around the girth of the mountain through a shady forest. It's a great hike for dogs and kids, too. Our Giant Schnazuer, Zeus, loved it. The trail head for these trails is on the south side of i70.
A bonus for hiking Genesee Park is you might see the city of Denver's bison herd!
Instead of Alderfer/Three Sisters, Try Pence Park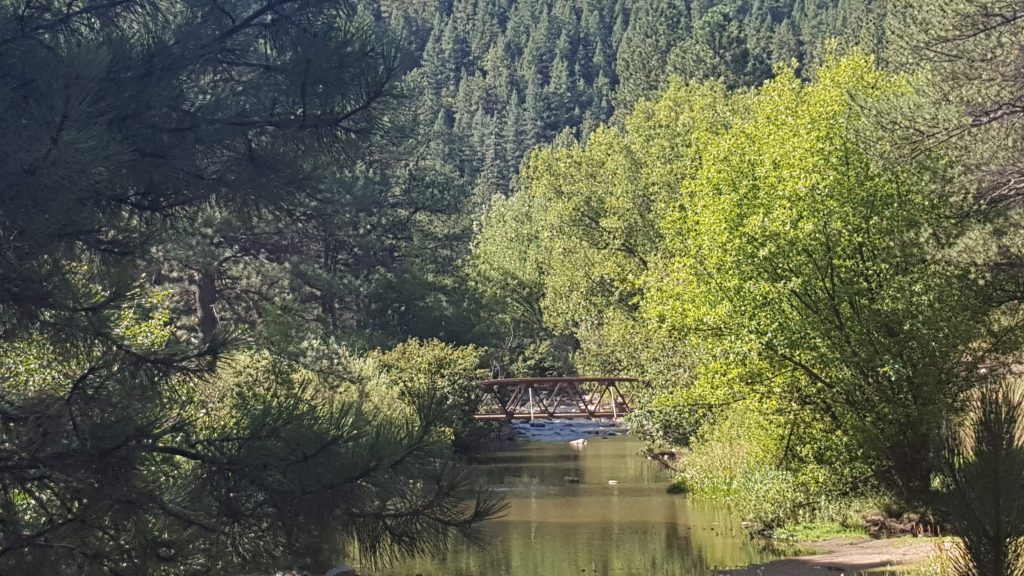 A big draw for many people, Alderfer/Three Sisters Ponderosa Pine forests often showcase elk and deer. You can find the same over at Pence Park. Pence Park, another of Denver's Mountain Parks, is the most western park in chain of four mountain parks that includes Little, Corwina and O'Fallon Parks.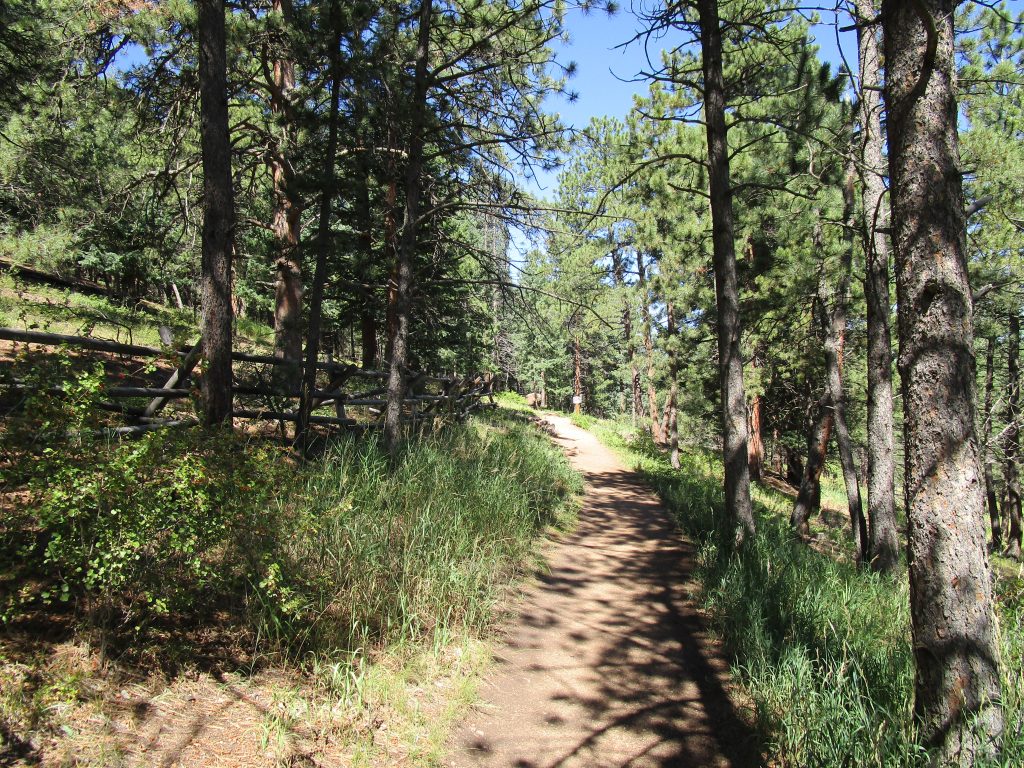 Instead of the 5-mile loop of Hidden Farm/Bearberry/Ponderosa Trails, try Pence Park's Bear Creek Trail. You can go one-way for six miles, ending in Little Park, along the Bear Creek Trail. Or, do an out-n-back for as many miles as you want. Watch for mountain bikers on the Bear Creek Trail.
Instead of doing the Three Sister's Evergreen Mountain East Trail, do the Independence Peak Trail at Pence. This short but fun trail to the summit is great in the fall where you'll catch colors and great Front Range Views without a lot of folks. It's a hiker only trail.
Instead of L'air of the Bear, Try Little or O'Fallon Parks
JeffCo's L'air of the Bear is popular with families and has many easier trails that kids love. But the parking lot fills quickly. Instead, park at either Little Park or Corwina Park, which sandwich L'air of the Bear. You can access the Little Bear Creek from all three parks.
Instead of hiking L'air of the Bear's Creekside Bluff Trail, head over to O'Fallon Park just down the street to hike to the 4-sided chimney, a fun landmark and historic site. To get to the chimney, which is a great hike for smaller kids, find the picnic area past the park entry. Follow the road by foot to the north along Bear Creek. The kids will love the ambling creek and scenic views  At the end of the road is a footbridge that takes you to the start of the Meadow View Trail. Follow that to the left to the Stone Chimney Trail, which takes you to the four-sided chimney. Round trip is less than a mile.
Grab a Good Hiking Book about Denver's Trails
Although it's nice to do a quick google search or AllTrails hunt to find a trail, many times you'll get the same results in your search that everyone else has also searched. Instead, maybe try and invest in one of the many good books written about hiking in Denver and near Denver. Here are three suggestions of books to use for good nearby hikes in Denver.
Best Urban Hikes Denver: 30 hikes within metro Denver for folks who don't want to drive too far to get on a trail.
Discovering Denver's Parks: Discover 160 of Denver's 300+ parks, including inside tips on enjoying Denver's Mountain Parks
60 Hikes within 60 Miles of Denver: Although this book takes you a bit farther than Denver, it gives some unique trails that you won't find in standard top ten lists.
What Would You Recommend?
None of us wants to give up our secret trail. If we do, everyone else will find it too. But honestly, there are enough trails in Colorado and along Denver's front range that we can all enjoy them together. What trail would you recommend? Share a difficult one, a moderate one, and one for visiting family. Let's help each other get out of the rut of Mt Falcon and North Table Mesa (which, I do want to say are fabulous hiking locations!) and try some different trails to share the wealth!
The New Trail Etiquette Rules
By the way, 2020 is a different year for hiking. The basic rules of trail etiquette remain the same; people and bikes yield to horses, bikes yield to hikers, and downhill yields to uphill. But a new piece of trail etiquette has entered the picture. If you can't pass with a safe six feet between you and the oncoming hiker, don your mask.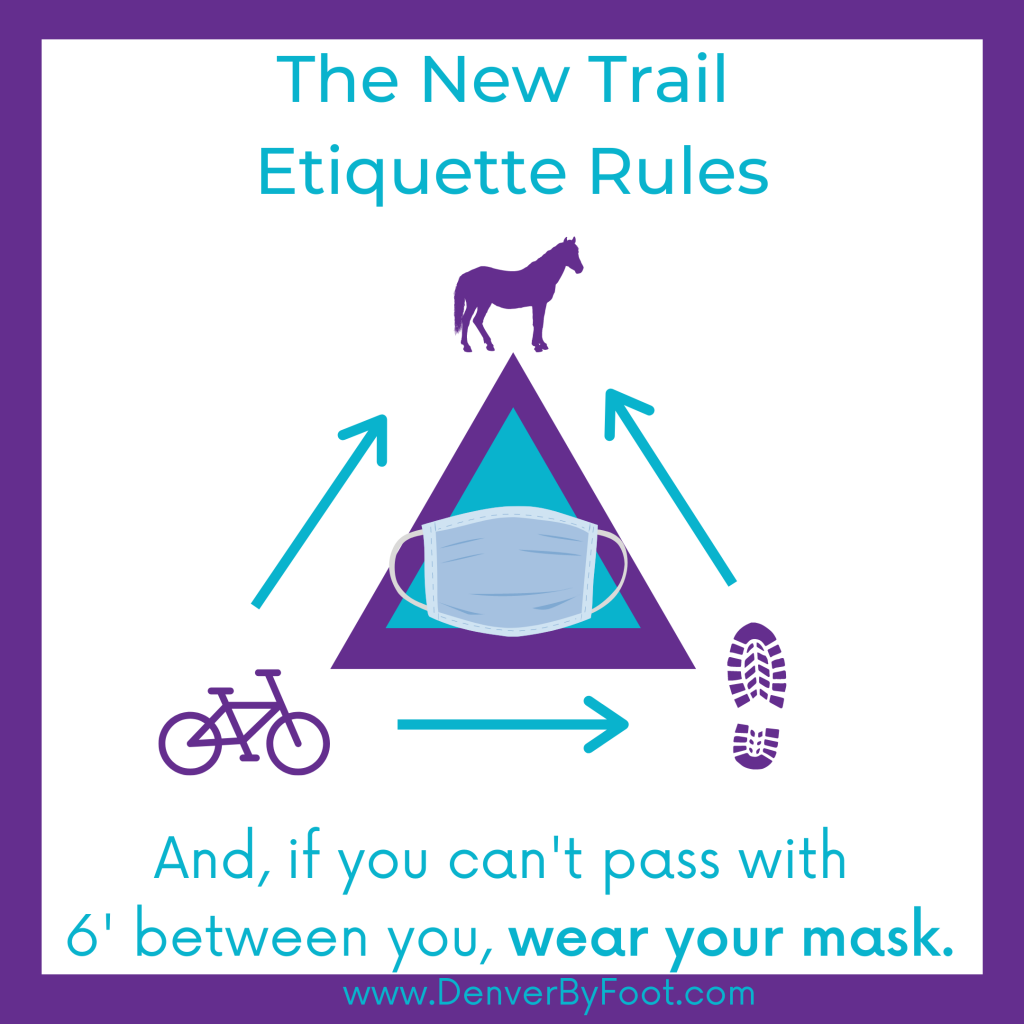 52 More Places to Hike in Denver
Like this post? Subscribe to the newsletter and get a free list of 52 places to hike in Denver. Thank you!