Surprising Hale
It'd be easy to expect that the Hale neighborhood would be like its neighbors to the west and east, Congress Park and Montclair–full of bungalows, a mansion here or there, but not much else. But walking through Hale came with several surprises. Being on the more fun end of Colfax has its influence. You'll have fun on this urban hike through Hale.
Starting with a River Rock House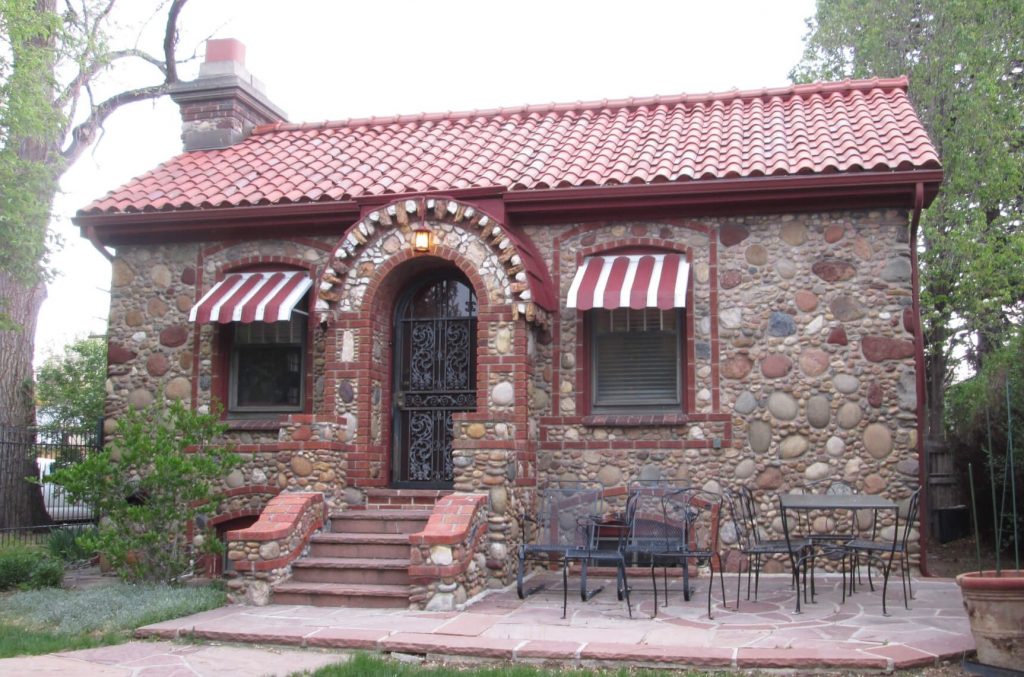 You'll start your urban hike on the corner of 12th and Dahlia, and be pleasantly surprised by the charming house made out of all river rock. It's the first surprise of many on this walk. Built in 1934, notice the really cool rock trim around the arch at the door.
Hale sits between Colorado, Colfax, 8th and Eudora. Interestingly, the Bellevue-Hale neighborhood association cuts its boundaries a little more narrow. None the less, a neighborhood that has Colfax bounding it has treats within. Hale is named after General Irving Hale, founder of the Veterans of Foreign Wars. The first outpost of the VFW was right here in Denver. Hale graduated from East High School, graduated top of his class from West Point, achieved Lieutenant Colonel in the Spanish-American War, then returned to Denver to oversee the building of General Electric's electric railway system.
Old and New from Small to Compact
With mostly original houses and just a few scrapes, the northeast and eastern boundaries of Hale seem to be bouncing along. Its southwest corner, though, bares the brunt of a torn-out hospital and the starts of rapid condo/apartment takeovers. The western edge gets the trendy Trader Joe's and fabulous Steep Tea and Coffee. Thus, the neighborhood seems a bit split between old and new, with the Rose Medical Center in its middle.
Cherry on Top
Your walk takes you along Colfax. As wicked here as in other areas, the Hale section hosts the controversial Hot Chick-a-Latte Coffee Shop. If you decide to stop into this eye-popping coffee shop where the definition of clothing is redefined,  you may not be able to resist grabbing the Hula Hoops and shaking some hips on Colfax while hooping circles to honking onlookers. Plus, the ladies at -Latte may treat you to their "pop a cherry" treats and a steamy cup of chai. Or, you can grin and walk on by.
Save up to 30% on New Deals from Brands You Love on REI.com. Hurry, limited time. End dates vary.
A Rose in the Center
Although typical Denver bungalows fill the neighborhood, occasionally you'll come across funky attempts at something different next to churches that standardize the architecture of their time. Even the Rose Medical Center, with its mix of old and new, attempts to throw a little quirkiness into the staid hospital complex.
The Rose Medical Center, known by many expected mothers as "the baby hospital" has deep routes in Denver's Jewish community. After WWII, Jewish doctors had a tough time trying to find appointments in hospitals. After much outreach, political maneuvering, and even fundraising out of Hollywood, the community received enough funding to open the hospital. They ceremoniously chose to name the hospital after General Maurice Rose, who died in the line of duty during WWII. General Eisenhower, who became US President and married Denver, hometown-girl Mamie Doud, dedicated the hospital as Rose Hospital. It remained a private hospital serving everyone until the mid 1990s when it was sold the HCA Healthcare.
Save up to 30% on New Deals from Brands You Love on REI.com. Hurry, limited time. End dates vary.
Interesting to note, the hospital owns a Torah which survived WWII. It had been stored in the museum in Prague where Hitler wanted the best of Jewish culture. The hospital was able to acquire the Torah, restore it, and declare it Kosher. It's now on display in the hospital and is available for special Jewish ceremonies.
Judging History
You'll return back to your starting point by way of Lindsley Park. Named after Judge Lindsley, who, at the time in 1954, was the youngest judge ever elected to the District Bench. He went on to become a Colorado Supreme Court Justice. His most famous rulings included allowing the San Luis Valley to pump water from the underwater reservoir, and he authored the decision to uphold the rights soldiers have to return to their jobs after deployment. It'd be interesting to know in connection between Hale, who founded the VFW, and Lindsley, who protected working soldiers' rights.
Hale is a fun and surprising neighborhood that everyone should walk at least once. See below for the map and directions
Start at 4726 E 12th Ave. Walk to the west along 12th Ave, turning right on Bellaire St.
At Colfax, turn right. Enjoy the market on the right, and if you're in a fun and frisky mood, stop at Hot Chick-a-Latte and spring a few Hula Hoops.
Take a right on Dahlia. Take a left on E 13th Ave and a right on Eudora. Enjoy the bungalows and look for the coho salmon mailbox on the west side of the street.
Cross Hale and take a right on Severn Place. Enjoy the off-white, subway-style house on the north side of the street. Take a right on Dahlia, taking it back across Hale and past the Rose Center.
Continue north on Dahlia to return back to where you started.
A Rose of an Urban Hike in Hale and Supporting DenverByFoot
If you've enjoyed this walk, maybe you'll enjoy some other walks curated by Denver By Foot. Get the 52 Hikes 52 Weeks Denver Calendar, which recommends a hike a week, subscribe to the YouTube Channel to hear about weekly hiking suggestions in Denver, and buy access to the Denver By Foot Challenge. The Challenge is 30 activities in Denver to do by foot where you'll uncover treasures throughout Denver. It's a great thing to do with friends and family, or even along during our lock down.
Finally, please support Denver By Foot by purchasing Chris Englert's books, The Best Urban Hikes: Denver and Discovering Denver Parks. Thank you so much!
I hope to see you on the trail.
~Chris