Chaco Odyssey Review–One Year Later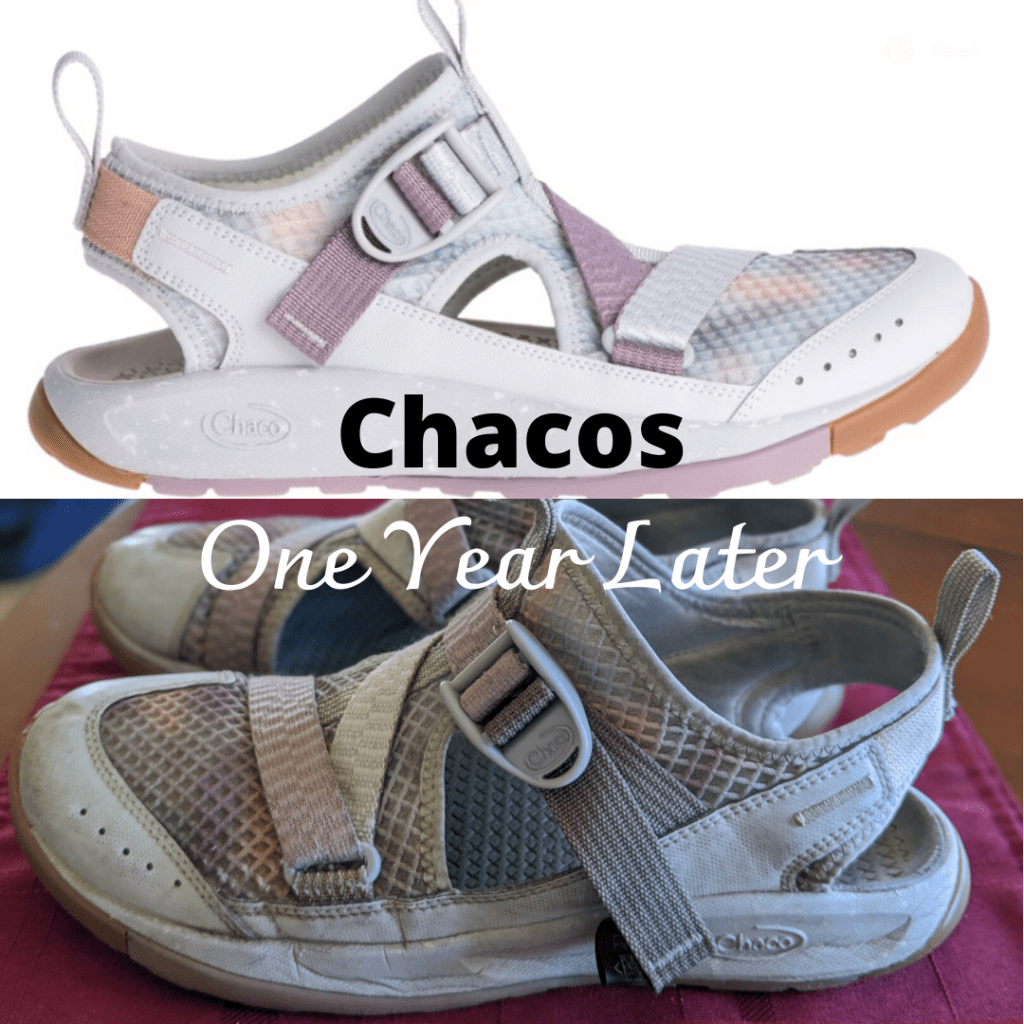 I'm an avid urban hiker and trail trekker. I walk over 12000 steps every day, and I must wear a shoe that can work all day and also hike through the weekends. In the summer, when every one dons their open-toe Keen hiking sandals and open-toe Chaco hiking sandals, I squeal at the thought of my toes hitting boulders, roots, and pebbles. So, instead I wear the closed-toe Chaco Odyssey hiking sandal here in Denver, Colorado.
How's it held up after a year of scrambling over Colorado's trails, through Denver's urban hikes, and into my local Target? As my go-to shoe in the summer time, you'll find the Chaco Odyssey on my feet most days for the entire day.
Good Closed-toe Hiking Sandals Are Hard to Find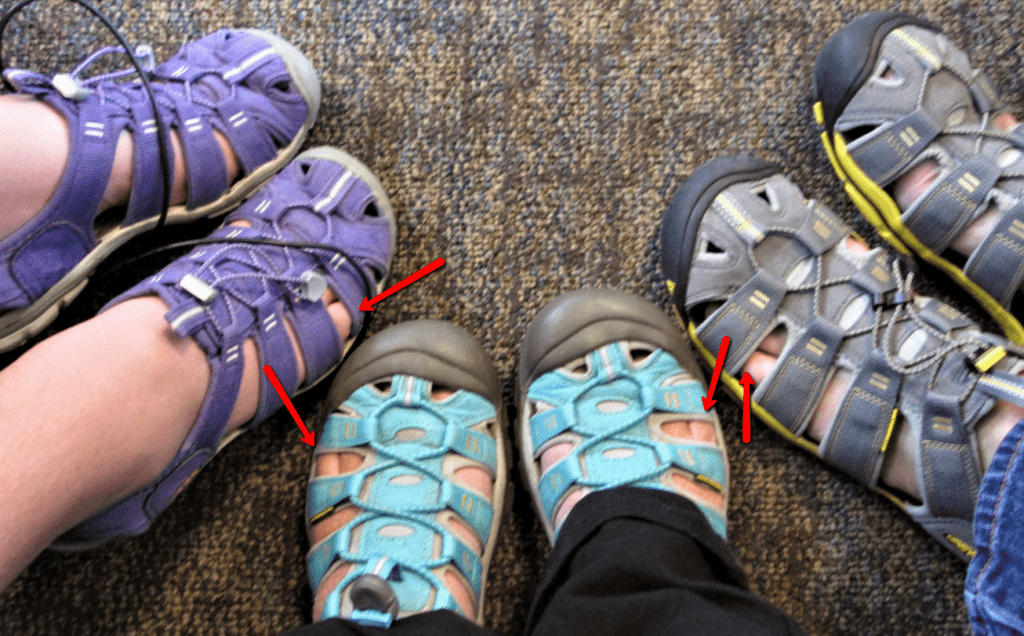 I have tried many other closed-toes sandals, mostly made by Keen. The typical Keen sandal's straps (like the Whisper or the Newport in the picture above) end up making my baby toe pop out, leaving it vulnerable to every twig on the trail.
I used to wear the Keen Arroyo because its straps kept my toes in place and the removable foot bed had a great arch. But it had to be one of the ugliest closed-toe, hiking sandals on the market. The dark brown color, the only color Keen made the Arroyo in, made me feel like a grizzly looking for dinner. When Keen took it off the market and tried to replace it with the EvoFit, I had to scramble to find a replacement.
Chaco Odyssey Surprises Me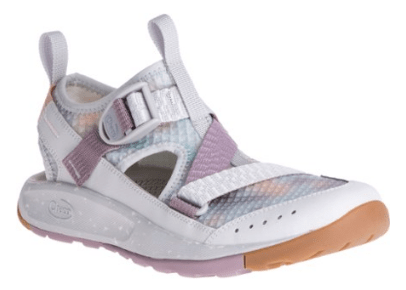 Imagine my joy when Chaco came out with the Odyssey, now in ten different color combinations, all of which beat an ugly dark brown.
The Odyssey is a sock-style sandal, similar to the Keen EvoFit, but its fit is much more comfortable. Rather than squeezing my wide foot into a tight sausage, the sock gently embraces my foot, providing a comfortable feel. The Z-straps, unique to Chaco, firmly hold my foot in place, allowing me to adjust the straps as my feet swell later in the day from a hot day on the trail. A size eight fit true to size.
The sole of the Odyssey firmly grabs the ground, never causing me to slip or slide. Its non-marking sole makes my gym owner and my sailboat friends happy.
Inside the shoe, I found at first that I was a bit unsure about the Chaco foot bed. Whereas the Keen Arroyo's foot bed is removable and has some arch support, the Odyssey has neither. I really doubted that I'd be able to go the distance in the shoe without the arch support I thought I needed.
I was pleasantly surprised.
The Shape Stays the Same, the Sole Wears
The shape of the foot bed gently cradles my foot, creating a flexible bend where my arch gets exactly what it needs. I can easily hike 5 miles in these shoes without my feet tiring, my shins splinting, or toes blistering.
Finally, there's the whole story of my toes. I envied friends for years who hike in open-toe sandals, wondering how the heck they keep their toes from getting sliced. I had been looking for a replacement for my Keens, which had worn out and I couldn't replace them. The deal sealed when a friend came to me in a meeting.
My friend had just urban hiked to meet me, arriving with a bludgeoned big toe squirting blood out from the top of her open-toe Chaco hiking sandals. She'd crushed it crossing the street and literally kicking the curb. I pulled out my first-aid kit and fixed her up. After seeing that awful toe close up, I vowed to never leave my toes out for the forest or the urban jungle to eat up.
That's when I found the Chaco Odyssey.
One Year of Wear Later of the Chaco Odyssey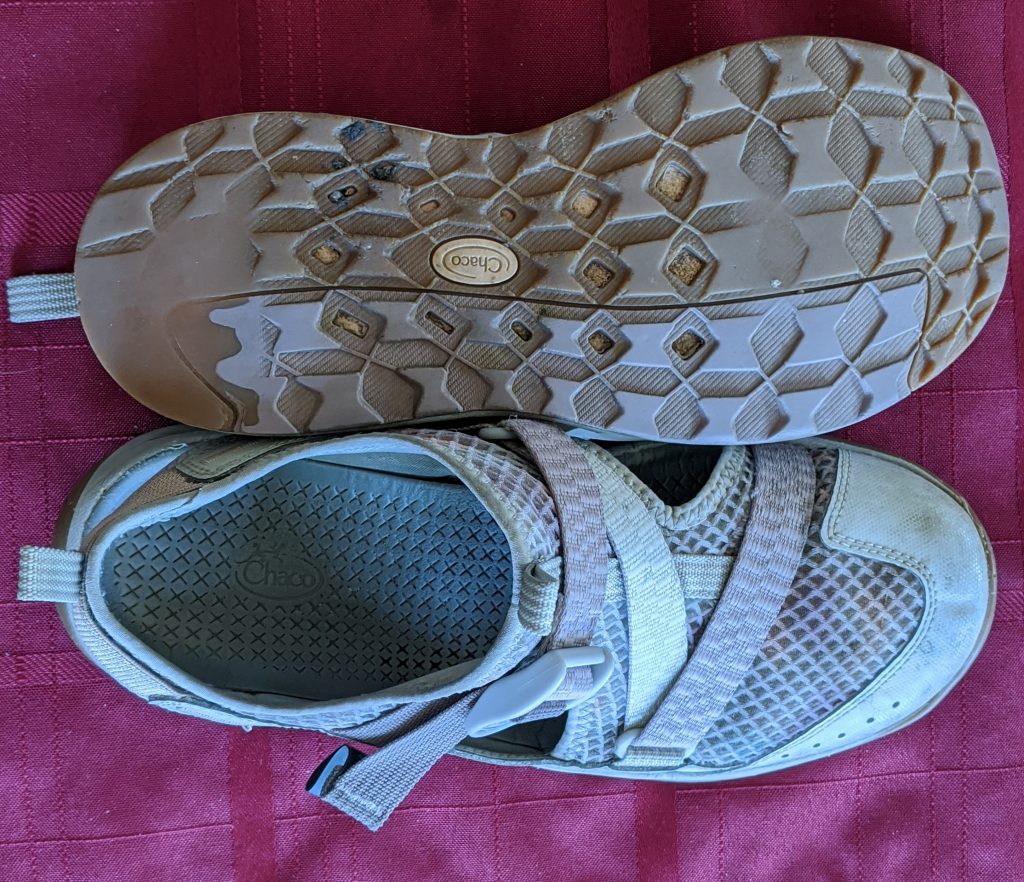 After a year of wearing them, they certainly don't look as fresh and clean as their first day. I have washed them with liquid soap in the shower, which helped a bit for dirt, but mostly it helped for the smell. The sock portion of the shoe traps foot sweat, and I find I need to wash them occasionally.
The fit still fits as perfectly as the first day I found the shoe. The sock has maintained its integrity and shape, while the leather toe box and Z straps also work exactly as on the first day.
As for other wear and tear, the sole shows wear. I figured I have walked or hiked about 1000 miles in this pair of hiking sandals. In the picture above, you can see I drag my left foot more than my right, and this dragging shows up in the tread wear. It is because of this tread wear I will eventually get my second pair of Chaco Odysseys.
Or maybe I'll get my second pair for a better color. The new Tiger Orange is awfully cute.
Versatility Throughout the Day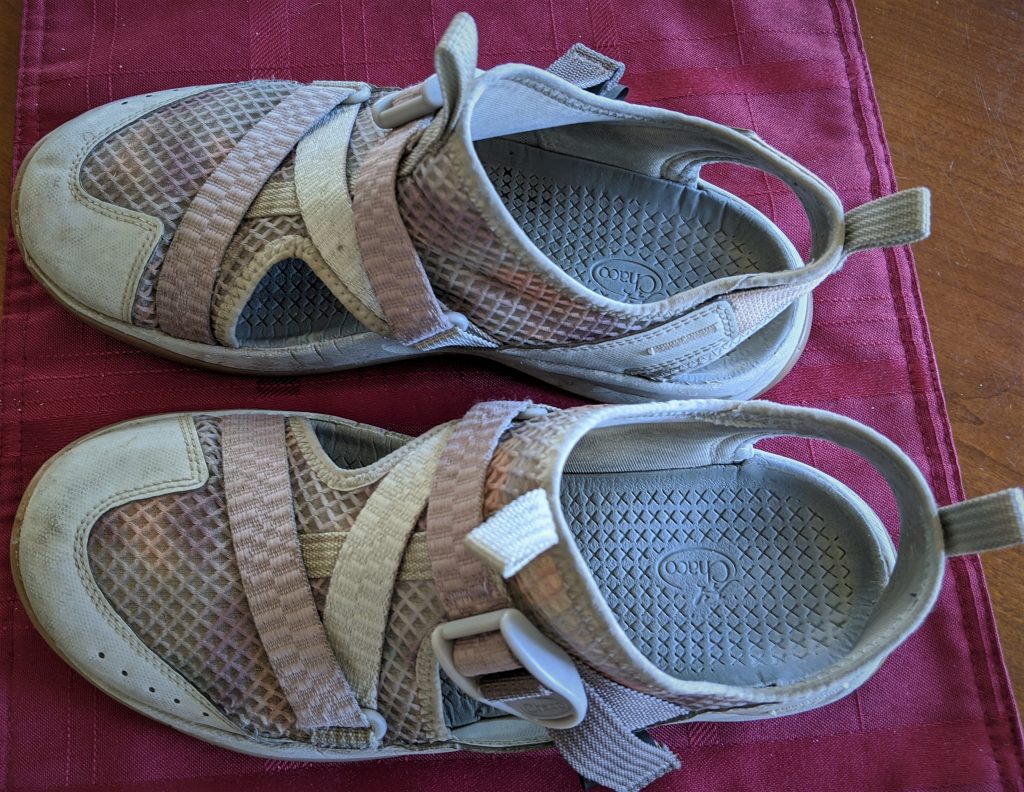 What I like most about these shoes is their versatility to go the entire day. As an author and blogger, my day generally looks something like this:
Get up, go for a quick walk around the neighborhood on sidewalks
Meet friends for a hike
Do some more writing
Fix dinner
Do another neighborhood walk or run an errand
Every other day, I workout in the gym (where I wear a gym shoe)
I put my Chacos on in the morning and don't change shoes all day. They're great in the rain, too. I wear them mostly with skorts from Skirt Sport or my favorite shorts from Prana.
In the winter, I change my footwear to a pair of Bombas socks and the waterproof Teva Arrowood Venture hiking shoes which I occasionally wear with Korkers Ice Cleats.
And by the way, I only buy my shoes from REI. I love the fact they are a co-op, they treat their employees well, they created #optoutside for Black Friday, and they have a year return policy on their shoes. No questions asked.
Go shop right now by clicking here.
What's on your feet?
See you on the trail,
Chris