Welcome to a new way to hike the High Line Canal Trail.
All 71 miles of it.
If you've never hiked the entire High Line Canal Trail, you're in for a treat. Or, if you've walked the whole trail, challenge yourself by doing it in longer segments. This guided, organized event shares the wonderful features of this trail that weaves through mosaic beauty of metro Denver.
We will hike the entire High Line Canal Trail as a group of 10 people (plus Chris.) Each segment averages 9 miles in distance, and they range from 6-10 miles. We'll chat, learn about each other, share information, and raise money for the High Line Canal Conservancy.
When you sign up, you are signed up for the entire event.There is no need to sign up for each segment. Your payment secures your s
Details about Sunrise on the High Line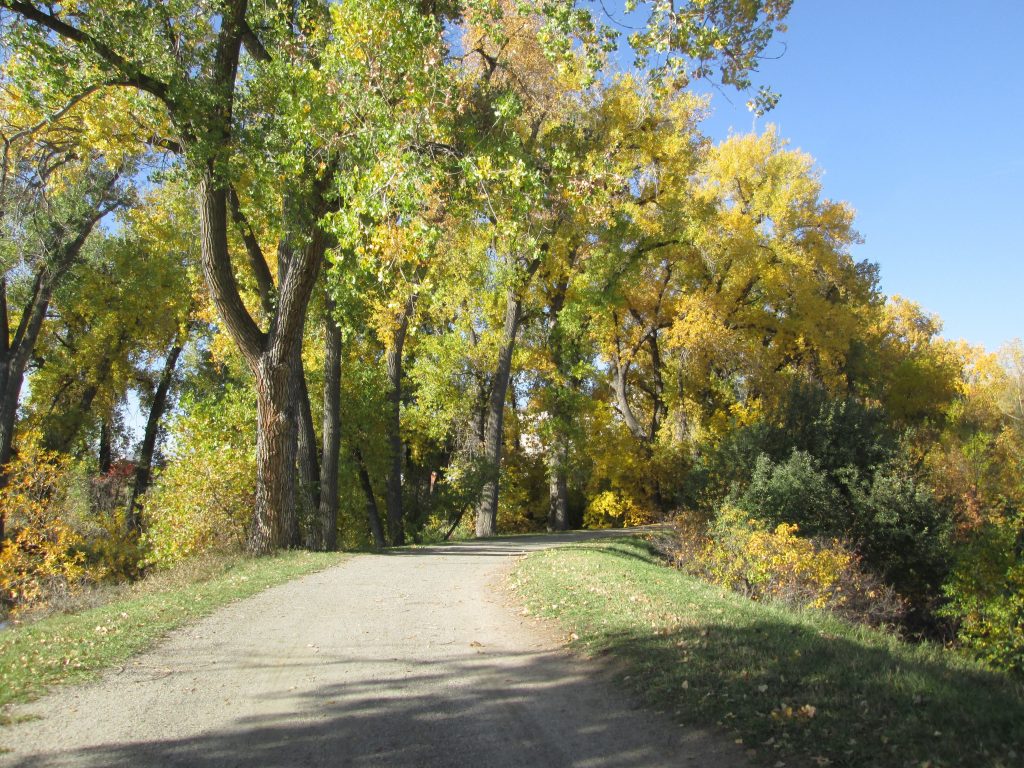 Here are answers to the most asked questions about this event. Please feel free to email Chris with additional questions after reading the entire article. (eatwalklearn@gmail.com)
Pace and Breaks. We'll walk as a group, taking a break at the halfway point and maintaining an average pace of about 20 minutes per mile.
Carpooling. With COVID upon us, we will approach carpooling in the following manner. We will meet at the end of the segment. At that point, we will each pick one person to be our "driving partner." You will share a ride with your partner back to the start of the segment, and at the end of the segment, you will drive your partner back to her car. Each person will have one driving partner to share driving responsibilities. It is up to you and your partner to determine if you will wear masks in your car and where each one of you will sit. Only two people total will be in each car. If you are walking the Sunrise on the High Line event with someone you know already, you are welcome to partner with that person. You will need to park cars at both ends.
Please prepare your vehicle for others to be inside of it. You will need to show your proof of insurance and sign a liability waiver. If you choose not to drive or don't have a car, you'll need to make other arrangements through Uber/Lyft/transit or other. By participating in the Sunrise on the High Line, you will drive over 300 miles getting to/fro the trailheads/ends.
Uber/LYFT: We require that you download either Uber or Lyft (or another ride sharing app of your choice.) If you are unable to complete a segment for any reason and cannot make it to your car, you will need to summon a rideshare to pick you up.
What to bring: Your ID and/or your drivers license, your car insurance, water, snacks, sunscreen, outerwear, hat, gloves, lunch, cash, credit card, blister care.
Masks. Please wear your mask. Some jurisdictions along the trail require it, and others recommend it. As a group, we will wear our masks.
COVID: If you are experiencing COVID or COVID like symptoms, please stay home and walk the segments when you are healthy.
Shoes and Poles: A good, solid, closed-toe walking shoe is perfect for the Trail. The Trail is mostly flat and varies from asphalt to soft surface. Poles are generally not necessary.
Final Details Email: You will receive a Final Details Email by 5 pm the Thursday before the walk. That email contains your information for where to park and any other outstanding info. This Final Details email supersedes any other information and is the end-all for all of that week's information. In case of uncertainty about weather, another email will be sent at 8 pm on Friday for changes due to weather. If there's no email on Friday, we're hiking Saturday.
Promptness: No one likes to wait. We will meet at the trailend at 6:45 and leave by 6:50 for the trailhead. We will meet at the trailhead at 7 and leave by 7:10. We will not wait for you. Please be on time and ready to go. Your Final Details Email will advise of restroom locations and such. If there is no restroom at the Trail, please meet your needs prior to meeting the group. Please remember that we are working as a team, and good team members support each other.
Planning your day: It will take us 3-4 hours plus 1/2 hour for carpooling to complete the day's event. Please do not plan anything in your day prior to 11:30 AM. Things happen on the trail, and we cannot guarantee when we will be finished each day. 4 hours is a guideline.
Weather: We will hike in all weather above 10 degrees. This includes rain and snow but not lightening nor ice. Often the trail is much cleaner and less icy than the street, so do not judge street conditions to determine trail conditions. If the Friday evening weather forecast predicts temperatures less than 10 degrees at 7 am in Denver on Saturday, the hike is automatically postponed. If it is safe to hike with cleats, we will do so.
Sunrise on the High Line Schedule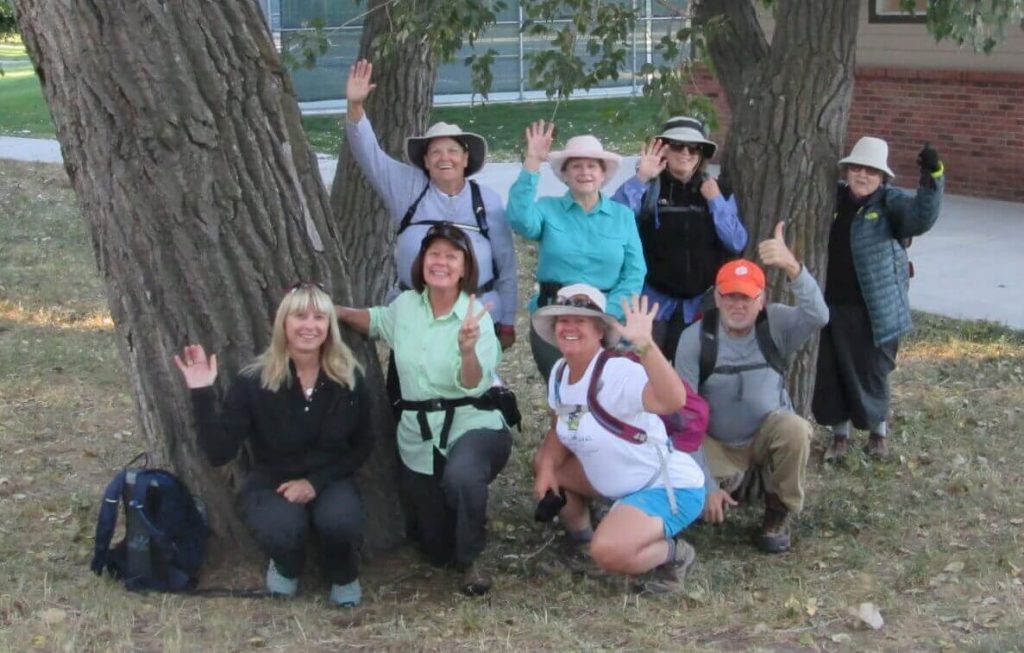 Here is the schedule for the entire event. There are two dates built in for you to make up a segment or for weather delays. All start times are 6:45 at the segment end, 7:00 at the segment start. Refer to the Guide to the High Line Canal for information about the segments. All dates are Saturdays. We will walk from the northern end near the Gaylord Hotel towards the southern end at Waterton Canyon.
October 17      Segments 27-24     9 miles
October 24      Segments 24-20   10 miles
October 31      Segments 20-16   10 miles (wear a costume!)
November 7    Segments 16-14     8 miles
November 14  Makeup
November 21  Segments 14-10  10 miles
November 28  Segments 10-6    10 miles
December 5    Segments 6-3        9 miles
December 12  Segments 3-1        9 miles
December 26  Makeup
Reserve Your Spot Today
Your $125 includes your choice of The Guide to the High Line Canal, Best Urban Hikes: Denver, or Discovering Denver Parks. You will also receive the High Line Canal Conservancy's trail bandana, a special Sunrise on the High Line Canal patch, and trail snacks. If you are participating in the High Line Canal Conservancy's Walk for the Canal Challenge, doing the Sunrise on the High Line would be a great way to measure your miles. #walkforthecanal
Sign up now!
Guarantee your spot for Sunrise on the High Line Canal. Only 10 people will be accepted into this exclusive event to walk with the most experienced High Line Canal Guide in Denver. Just select the book you'd like to receive, pay the $125, and your spot is confirm
Proceeds from Sunrise on the High Line go to the High Line Canal Conservancy and Eat Walk Learn, LLC.
Your Guide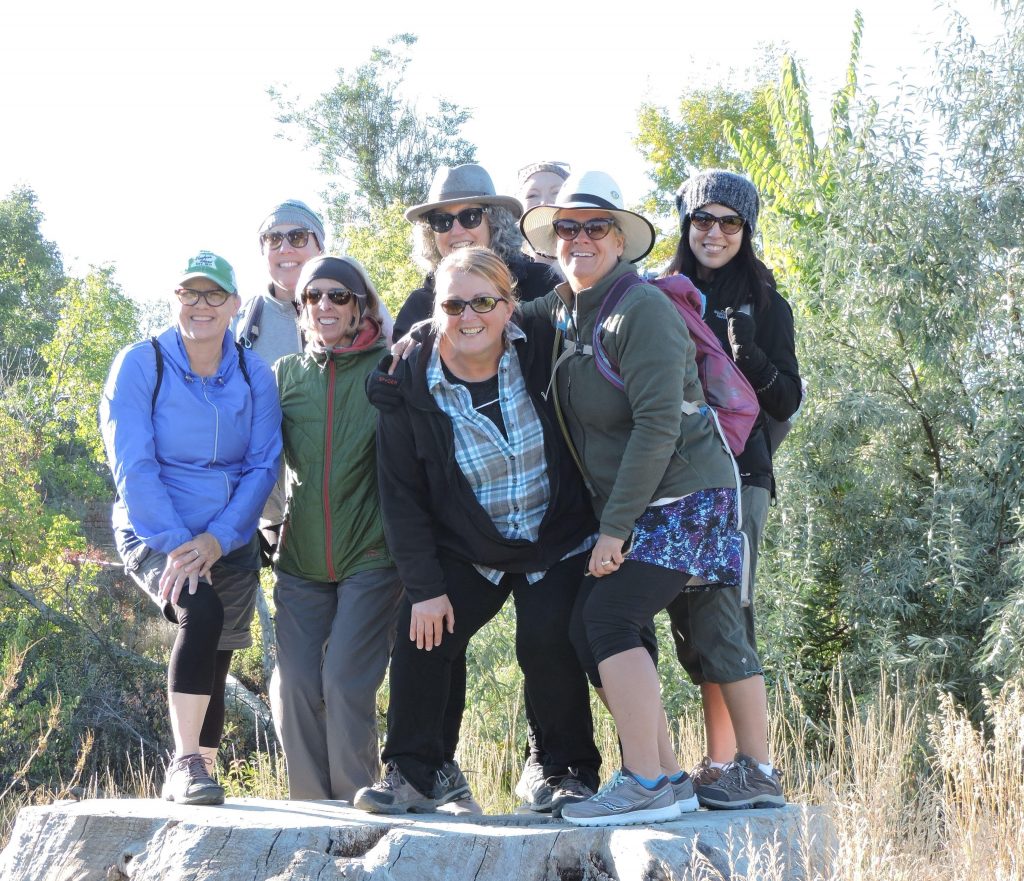 Chris Englert, Denver's urban hiker, has walked the entire length of the High Line Canal Trail over ten times. She co-wrote the Guide to the High Line Canal, developed several walking programs on the High Line, and has authored three additional books about Denver. She hosts and runs the city's best website for Denver hikes, DenverByFoot, and you can follow her in social media at @denverbyfoot.
Questions: Reach out to Chris on Facebook, Instagram, Twitter at @denverbyfoot or via email (eatwalklearn@gmail.com)